Published April 04, 2017
•
Updated September 04, 2022
The Blue Train (Bloutrein)
"The Blue Train" playing cards from the luxury train service in South Africa.
A service to rival "The Orient Express" with tickets starting at £600 per adult (based on two sharing a compartment), this is a luxury train service in South Africa. Decks are manufactured by Protea Playing Card Company and appear to be available on-board the train as single decks or double boxed sets. Each card depicts a different railway locomotive, repeated in each suit in blue or red against a gold background. The reverse features a floral design. See the Box►
Earlier Versions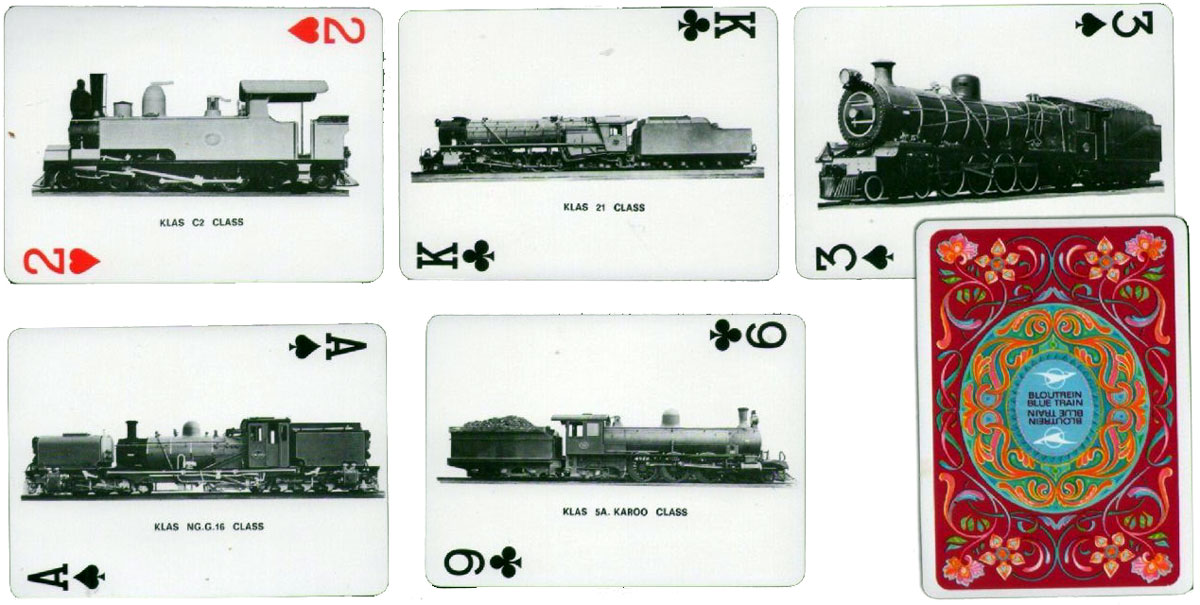 Around the same time similar sets were published by SA Spoorwegmuseum / SA Railway Museum, South Station Building, De Villiers Street, Johannesburg, showing the same fronts but with different backs, on plastic film laminated card. 52 cards + joker + 2 extra cards in plain box.
Member since March 02, 2012
I have adored playing cards since before I was seven years old, and was brought up on packs of Waddington's No 1. As a child I was fascinated by the pictures of the court cards.
Over the next fifty years I was seduced by the artwork in Piatnik's packs and became a collector of playing cards.
Seeking more information about various unidentified packs I discovered the World of Playing Cards website and became an enthusiastic contributor researching and documenting different packs of cards.
I describe my self as a playing card archaeologist, using detective work to identify and date obscure packs of cards discovered in old houses, flea markets and car boot sales.