"Smart Set 400"
Images and text courtesy Rod Starling
It appears that the "Smart Set 400" brand with named backs was introduced in c.1906 by the Kalamazoo Playing Card Co. in Michigan. Kalamazoo subsequently merged with the Russell Playing Card Co. in around 1913 or 1914. Thereafter the "Smart Set 400" series continued to be published by the Russell Playing Card Co. under its own name and with its own Ace of Spades. Decks were available with different tinted backs in hard slip-cases, and usually had gold edges.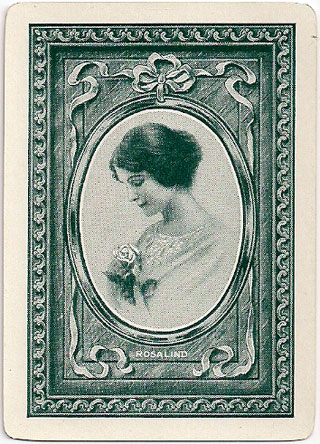 The title "Smart Set" probably referred to the social ranks of New York's high society, possibly the savvy younger women, similar to a group that today is known as the "Fortune 500 Set". The vintage deco graphic designs are a reflection of that bygone era.
Some of these decks were issued in both wide and narrow versions and possibly some later ones were issued only in the narrow version. All of the "Smart Set" decks, whether by Kalamazoo or Russell, have the same Joker that is also a favourite of collectors.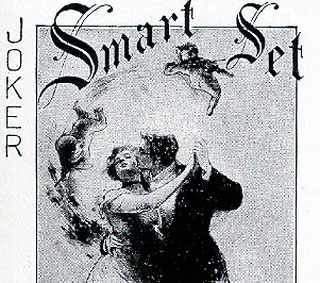 After the merger of Kalamazoo with Russell P.C.C, Russell continued to publish the former titles, along with the following new named back designs in the "Smart Set" Series: New York Girl, Fan Tan Girl, Geisha Girl, Flying Girl, Cho Cho San, Sweet Tooth, Treasure, Day Dreams, Neptuna, and Tennis Girl. If you know of any further back titles or have more information about "Smart Set 400" decks we would welcome your feedback.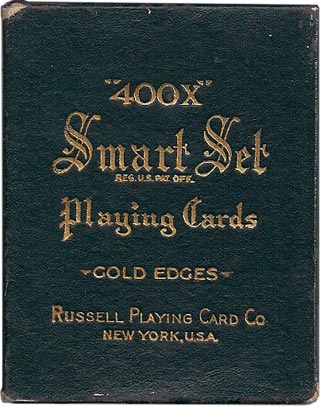 In 1929 Russell Playing Card Co became a division of the United States Playing Card Company and many brands continued to be produced with the Russell Ace of Spades.
---
The back designs shown below were manufactured by the Standard Playing Card Company, Chicago. Russell Playing Card Co merged with USPC in 1929 and the Standard Playing Card Co was already owned by USPCC but continued operating as a separate entity until 1930. The three Standard decks date to 1925, c.1926 and 1928. Accordingly, in those years USPC had no control over Russell and Standard. The decks are from the whist size Society Fancy Back Series 1001 with gold edges.


---