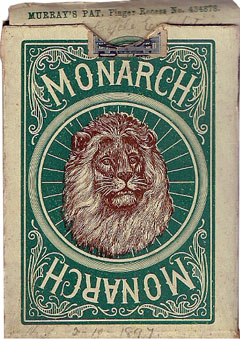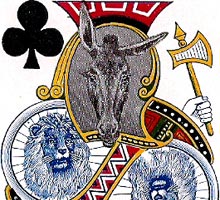 "Monarch Bicycle", 1895
Monarch Bicycle playing cards are an early example of non-standard designs used for advertising. The company advertised itself as "The Monarch King of all Cycles" with a lion's head motif inside a bicycle wheel. The four Kings depict Tom Cooper (1874–1906), an 1890s champion bicycle racer and early auto racing 'speed king' who unfortunately died in an auto accident. The four Aces, and also the box, contain bicycle wheels.
Interestingly, the format of the court card designs in this deck appears to have been used in other advertising decks. They may have triggered the idea for the Stage No.65 theatre stars deck published in the following year.

---