Ye Witches' No.62 Fortune Cards
This late nineteenth century fortune-telling deck has illustrated pip cards suggesting their divinatory meanings. In some instances the pips are actually part of the design, which makes "Ye Witches" a partial Transformation Fortune-Telling deck. Some of the period dresses in the illustrations are interesting. An accompanying booklet contains the rules for interpreting the cards and how to use the deck in more detail. The court cards are standard except that their hair is filled in black. The Joker has an image of a horseshoe, rabbit's foot, three four leaf clovers and a broken wishbone.
---
Ye Witches' Fortune Cards Review
Ye witches Fortune Cards No 62x, 2019 edition

Ye Witches Fortune Cards are a reproduction custom pack for collectors and magicians, based on the original 1896 edition of the deck by the US Playing Card Company.

Produced by card magician Will Roya

, illustrated by Azured Ox and manufactured by USPCC in two colours: red and green with different back designs to each in a limited edition of 2000 packs of each colour.
Like the 19th century originals, the reproduction pack is cut to poker width, without corner indices and faithful reproductions of the original semi-transformation images including the two jokers and in addition two gaff cards: a blank face card and a double-back card to further expand the scope for use by card magicians. The green pack has the witch flying a broomstick back design while the red back pack depicts the witches coven scene.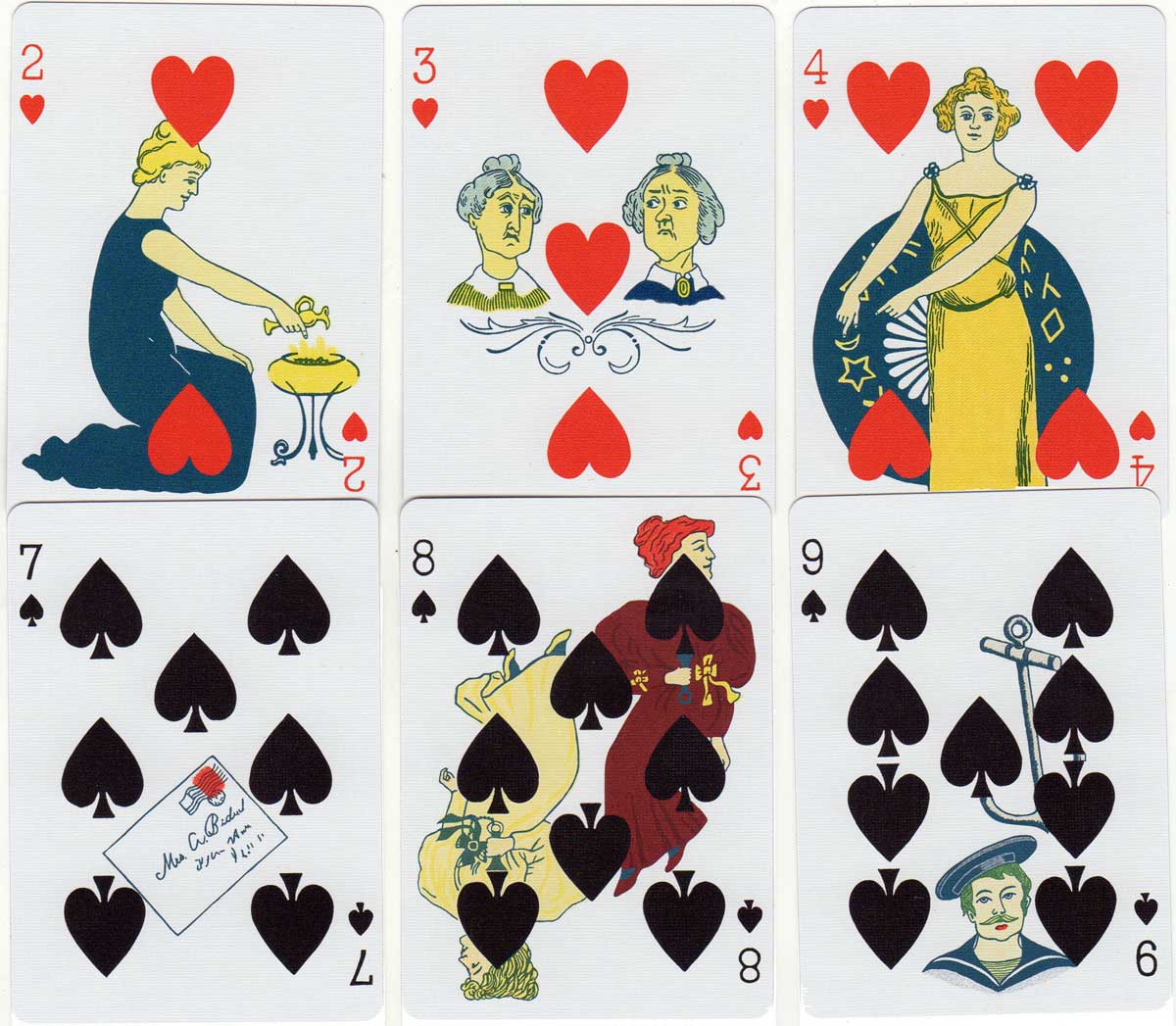 Packs are sold either as a pair comprising one pack of each colour; individually or as an uncut sheet. The reproduction packs do not include the fortune telling instructions included with the original pack, but can be downloaded as a free eight-page PDF from the publisher's web site at: