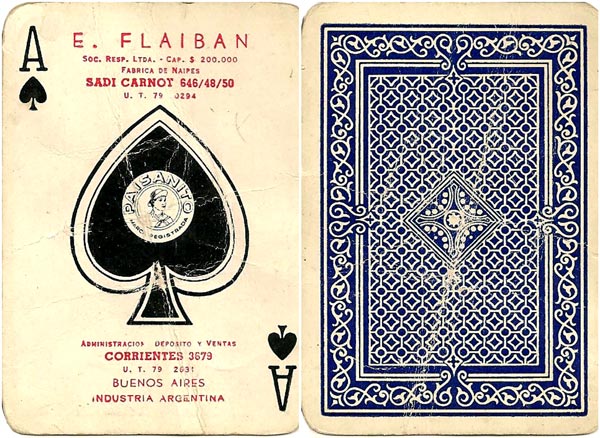 Poker "Paisanito"

"Paisanito" was one of Ernesto Flaiban's stationery brands and the range of products included playing cards. "Paisanito" playing cards were produced both in Anglo-American and Spanish-suited styles. The examples shown here from the early 1940s give Flaiban's factory address at Sadi Carnot 646-50 (the street name was later changed to Esperanza) and the administration and sales offices at Corrientes 3679, Buenos Aires.
It so happened that in 1952 the playing card division was hived off and re-named as Paisanito S.R.L. with premises at Rio Limay 1527-29, but was re-merged with the parent firm shortly afterwards, which became Flaiban S.A.C.I.
Member since February 01, 1996
View Articles
Curator and editor of the World of Playing Cards since 1996.