Published September 02, 1999
•
Updated June 12, 2023
Impuestos Internos Sobre Naipes
Duty was first introduced on playing cards in Argentina in 1892, as part of the Internal Duties law, and in 1896 the first duty labels were printed to be used on packets of 1 gross packs.
TAX - IMPUESTOS INTERNOS sobre NAIPES
In 1816 imported, foreign playing cards were taxed at 30 reales per dozen packs. As a precaution, locally produced packs were stamped on the two of swords, and imported ones on the two of coins. On June 27, 1842 tax was imposed on playing cards by General Antonio López de Santa Anna. The treasury would control the manufacture and sale of playing cards through the tobacconists. Auditable accounts were required.
In 1892 the Internal Duties law was passed (no.2856) introducing the use of a tax stamp to be affixed around each gross of playing cards. The example shown (left) refers to a law of 2nd August 1895. In 1899 these were replaced by bands, initially for a dozen packs and then for single packs. There were several laws and decrees enacted which varied the details of the tax bands and stamps over the years.
The 'Boletín Oficial' dated 26th January 1899 (Official Government Bulletin) states that the inland revenue tax bands on playing cards shall be black for home-produced packs, and red for imported packs. It appears that the colour of these tax bands varied in the course of time, as well as the colour of the tax stamps themselves (below). Furthermore, the bulletin also states that the manufacturer must print his name and address on each outer wrapper, and also submit the four of cups (in Spanish-suited packs) or the ace of hearts (in Anglo-American style decks) for a control stamp to be applied, and that this card, once stamped, must be left outside the wrapper for inspection. Similar regulations governed the supplies of cardboard which also were officially controlled. Offenders were fined.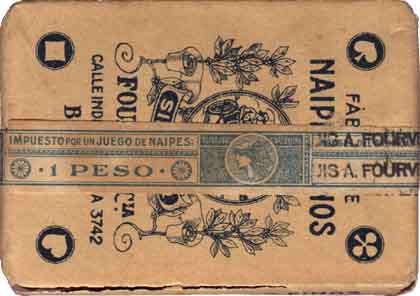 ---









---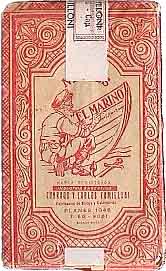 Member since February 01, 1996
Founder and editor of the World of Playing Cards since 1996. He is a former committee member of the IPCS and was graphics editor of The Playing-Card journal for many years. He has lived at various times in Chile, England and Wales and is currently living in Extremadura, Spain. Simon's first limited edition pack of playing cards was a replica of a seventeenth century traditional English pack, which he produced from woodblocks and stencils.