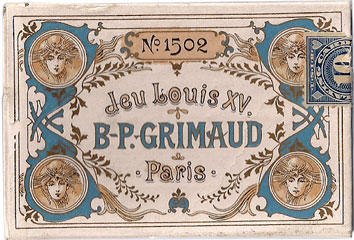 Jeu Louis XV, c.1895
B.P. Grimaud of Paris issued this very ornate costume deck called "Jeu Louis XV No.1502" in c.1895. It has been so popular that it has been re-published on numerous occasions and is still available today in modern re-prints or facsimiles. The original cards are printed in chromolithography.
They were often sold in double sets for playing Whist with differently coloured backs. The box (shown right) has an American import tax stamp affixed. The Ace of Clubs has the French tax stamp.