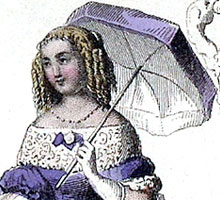 "Jeu des Rois de France", Grimaud, Paris, c.1856
Costume playing cards became very fashionable in France during the 19th century. This beautifully engraved and pleasing historical deck designed in 1856 has French Kings and consorts as the Kings and Queens, with court attendants as the Jacks, all dressed in magnificent period costumes from their respective eras.
Other cards with courts showing contemporary costumes were made by O. Gibert, also of Paris, around the same time.