Published May 05, 2015
•
Updated April 24, 2022
Fable III
"Fable III" playing cards created by Lionhead Studios depicting characters in the role-playing video game published by Microsoft Game Studios in 2010
"Fable III" playing cards created by Lionhead Studios depicting characters in the role-playing video game published by Microsoft Game Studios in 2010. The story focuses on the player character's struggle to overthrow the King of Albion by forming alliances and building support for a revolution. The cards are completely original. Each ace, court card and joker features an image connected with the game. The pip cards are plain. The cards have been printed to look play-worn and aged, but are actually high quality cards with a 'linen finish'. All in all, a very lovely quality deck.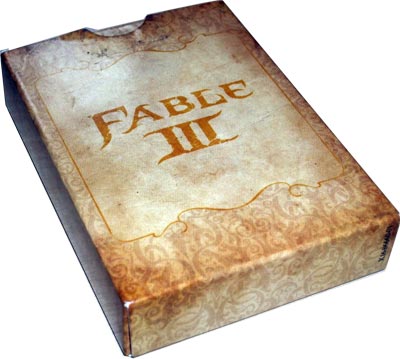 Member since March 02, 2012
I have adored playing cards since before I was seven years old, and was brought up on packs of Waddington's No 1. As a child I was fascinated by the pictures of the court cards.
Over the next fifty years I was seduced by the artwork in Piatnik's packs and became a collector of playing cards.
Seeking more information about various unidentified packs I discovered the World of Playing Cards website and became an enthusiastic contributor researching and documenting different packs of cards.
I describe my self as a playing card archaeologist, using detective work to identify and date obscure packs of cards discovered in old houses, flea markets and car boot sales.