Published June 20, 2012
Updated June 01, 2022
PolitiCards 2012
This 2012 deck of Politicards represents the sixth election year that Peter Green has created these collectible playing cards.
"Politics is just like Show Business"
Politicards 2012 casts this year's American politicians, pundits and celebs as characters from classic feature films. This is the sixth in a series of U.S. election satirical playing cards created by Peter Green.
"This is intended to be an evenhanded non-partisan poke at these folk," says Green. "I would be happy if people buying Politicards would just get a bit more involved in our election process through the humor in these images." After all says Green, "We all deserve a better deal."
See also: PolitiCards 2000. Decks are available direct from www.politicards.com.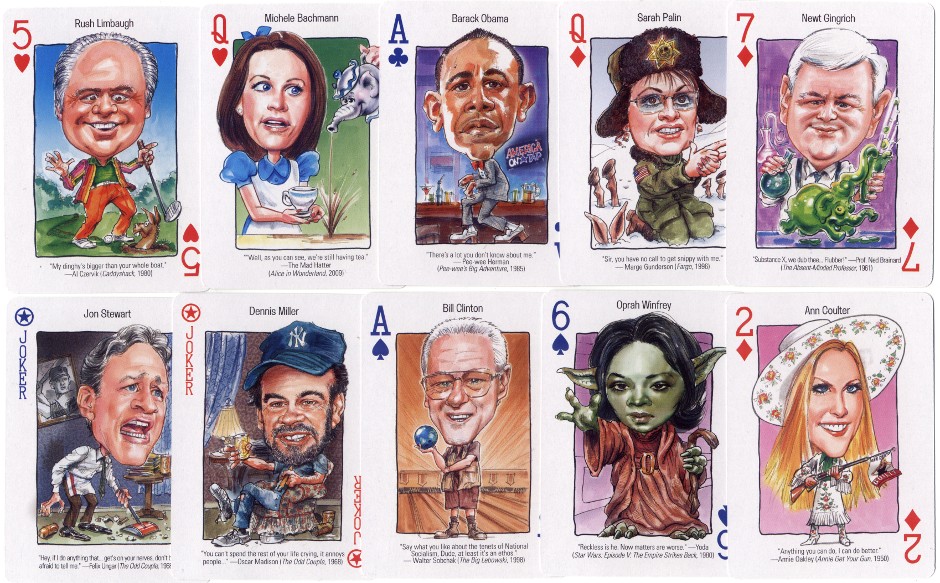 Peter Green created Politicards 40 years ago with the Nixon/McGovern '72 election and ever since they have become the most collected election memorabilia every four years. Green's current deck takes the U.S. politicians and pundits that are active in the current scene and places them as characters from Hollywood movies with a carefully researched line from that movie and the character they are depicted as.
Member since February 01, 1996
View Articles
Curator and editor of the World of Playing Cards since 1996. He is a former committee member of the IPCS and was graphics editor of The Playing-Card journal for many years. He has lived at various times in Chile, England and Wales and is currently living in Extremadura, Spain. Simon's first limited edition pack of playing cards was a replica of a seventeenth century traditional English pack, which he produced from woodblocks and stencils.