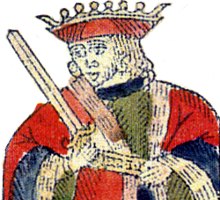 Naipes Artiguistas, Entre Rios (Argentina), 1816
Naipes Artiguistas were published in Concepción del Uruguay, Entre Rios province (Argentina) in 1816, by Fray Solano García (1784-1845) at a special moment in Uruguayan history.
Solano García was a Chilean Franciscan friar living in Argentina who supported the cause of the Uruguayan Gervasio de Artigas. Political slogans incorporated into some of the numeral cards relate to the activities of General Artigas, whose campaigns were also supported in neighbouring provinces in Argentina. The political and cultural climate of the moment is captured in these cards.