Published November 16, 2010
Updated April 25, 2022
Deakin's 1st edition
Deakin & Co., 45 Eastcheap, London EC published a political pack in 1886 with caricatures of political figures relating to the Irish Home Rule movement which was a contentious issue of the day.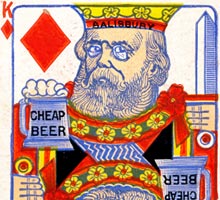 Deakin's Political Playing Cards, 1st edition, 1886
After the Conservatives lost the 1880 election and Disraeli's death the year after, Salisbury (King of Diamonds) emerged as Conservative leader in the House of Lords, with Sir Stafford Northcote leading the party in the Commons. He became Prime Minister in June 1885 when the Liberal leader William Ewart Gladstone resigned, and he held the office until January 1886. When Gladstone ('Grand Old Man', King of Hearts) came out in favour of Home Rule for Ireland, Salisbury opposed him and formed an alliance with the breakaway Liberal Unionists and the won the subsequent general election. He remained Prime Minister until Gladstone's Liberals formed a government with the support of the Irish Nationalist Party, despite the Unionists gaining the largest number of votes and seats in the 1892 general election.