Adolfo Matarelli Transformation
Transformation playing cards designed by Adolfo Matarelli (1832-1877) and originally published by Lit. G. Payer, Florence, c.1860 with the title "Album". Matarelli was a well known caricaturist who first illustrated Carlo Collodi's famous Pinocchio story. He was also a collaborator in the satirical magazine "Il Lampione", founded by Collodi. The images in the intricately designed "transformed" playing cards are supposed to be street scenes, but are often allegorical or symbolic, suggesting a moral or political innuendo and resulting in a visually pleasing and intriguing transformation deck.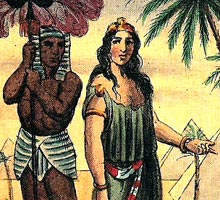 The Court Cards
The 12 court figures are all standing in front of a background scene which enhances the sense of drama.