Published December 16, 2012
Updated May 29, 2022
Ceska Graficka Unie AS
Playing Cards printed by Ceska Graficka Unie AS, Czechia, Prague, 1890-1925.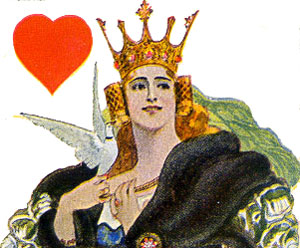 'Jugendstil' designed by Artuš Scheiner, 1920
From the days of the Republic of Czechoslovakia, this magnificent piece of fantasy graphic art in the 'Jugendstil', Art Nouveau or 'Secessionist' style was designed by noted Czech graphic artist and illustrator Artuš Scheiner (1863-1938) and first printed by Česká Grafická Unie AS (Czech Graphic Union), Prague, in c.1920. Artus Scheiner worked as a financial clerk in Prague when he began drawing as a hobby. Soon magazines in Austria, Germany, Czechoslovakia and Hungary began publishing his work. 1902 saw the release of his first book of fairy tale illustrations. He is not so well known in the English-speaking world.