De la Rue's 125th anniversary
De la Rue's Silhouette Aces of Spades and Coloured Jokers

In around 1955 De la Rue introduced a new coloured joker and a series of aces of spades with a silhouette of Thomas de la Rue which coincided with the 125th anniversary of the granting to Thomas de la Rue of a Royal Letters Patent by King William IV for the printing of playing cards by the typographical process in 1857. The silhouette aces of spades first appeared in c.1957 and underwent several changes in lettering and design, in particular when the three pence duty was dropped in 1960, but also including a white collar in some versions. The coloured joker is first known in July 1955 but was subsequently replaced by a harlequin joker in 1961.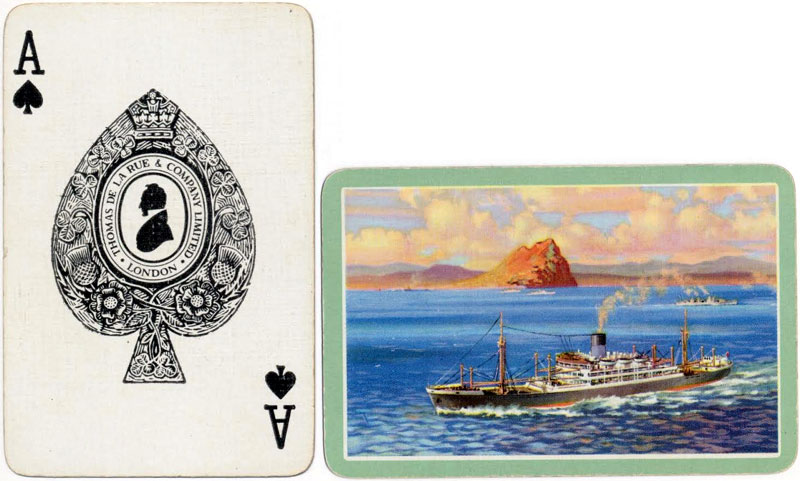 In 1969 De La Rue sold out to Waddington's, who then became Britain's leading playing card manufacturer.
Wide sized 'Wheel' aces were probably made for export. They are found with or without the name printed at the foot. Also used by Waddingtons in 'Zodiac Club Playing Cards' for Pepys with Goodall courts, after Alf Cooke had been bought out, with 'Wheel' backs, c.1972.
The occasion of the 125th anniversary of the granting to Thomas de la Rue of a Royal Letters Patent by King William IV (1832) was also celebrated by the first ever International Conference of playing card manufacturers in London in October, 1957, along with an International Exhibition of Playing Cards, an International Bridge Tournament and the printing of a specially designed pack of playing cards by Jean Picart le Doux→