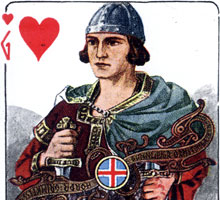 'Islenzk Spil' ~ Historical Icelandic Playing Cards
Icelandic culture is founded upon the nation's Norse heritage. Most Icelanders are descendants of Norse and Gaelic settlers. This historical Icelandic deck was first published in c.1930 and shows the native Icelandic Vikings of some thousand years ago with stern expressions but rendered in a romantic naturalistic style. Their names are given in Icelandic lettering in the ornament separating each end of the design, which also includes Viking motifs.
Tryggvi Magnússon (1900-1960) graduated from secondary school in Akureyri in 1919 and then pursued studies in Copenhagen for two years. Then he went to New York League of Art 1921-1922 and studied portrait making. Between 1922-1923 he pursued the study of painting in Dresden. Tryggvi was one of the founders of the Association of Icelandic Graphic Designers and he also designed Icelandic Chess Playing Cards printed by Alf Cooke in 1942.