Ceki cards from Indonesia. The design of these cards is more or less identical to those produced by manufacturers in Malaysia or Belgium. The card second from right on the top row bears the inscription 榮興記 which also occurs in Belgian-made Ceki packs and which could be a maker's name or simply an auspicious phrase. Most probably both Belgian and Indonesian makers copied their Ceki cards from a common source without knowing what the characters meant (or if they represented language at all). The presence of a bat on the wrapper is easily explained. In Chinese, the words for "Bat" and "fortune" are homonyms - a most appropriate symbol!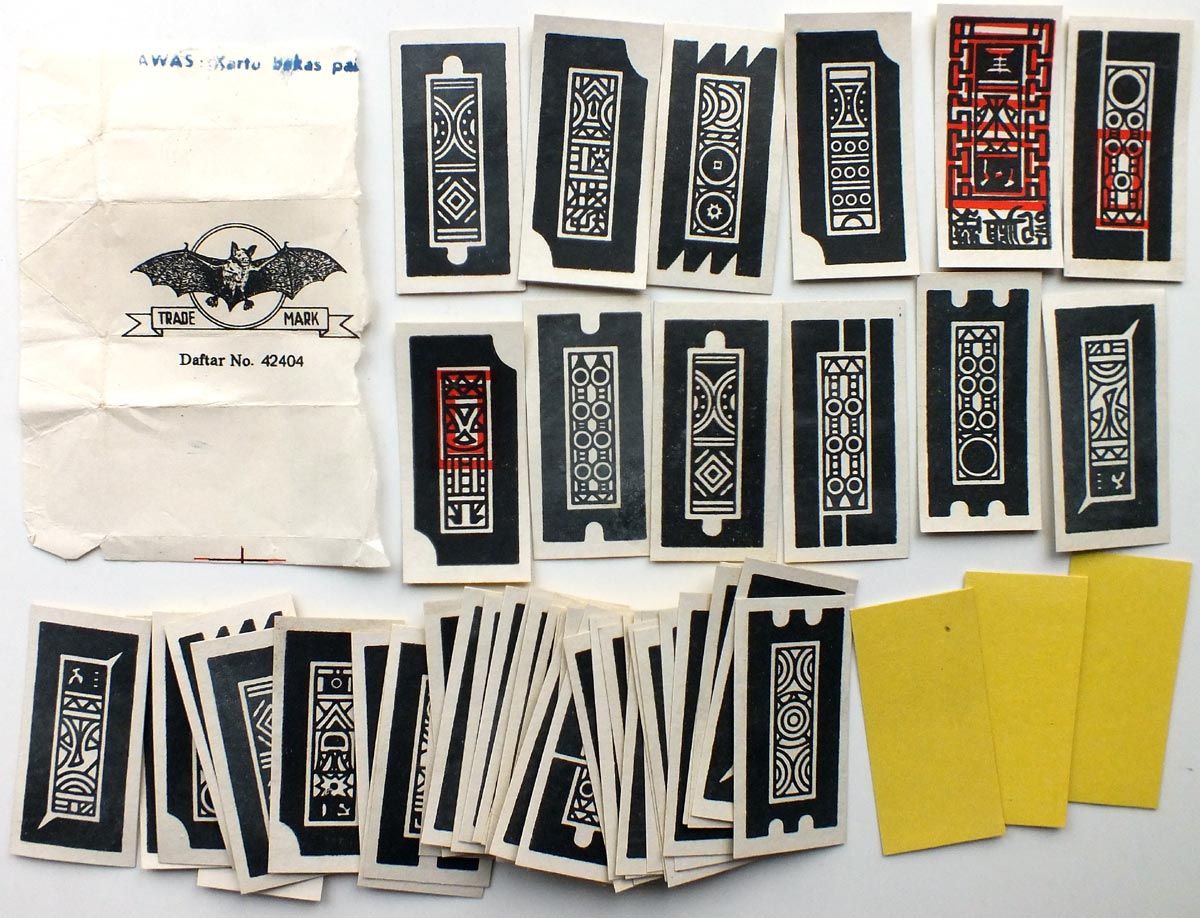 Member since February 01, 1996
View Articles
Curator and editor of the World of Playing Cards since 1996. He is a former committee member of the IPCS and was graphics editor of The Playing-Card journal for many years. He has lived at various times in Chile, England and Wales and is currently living in Extremadura, Spain. Simon's first limited edition pack of playing cards was a replica of a seventeenth century traditional English pack, which he produced from woodblocks and stencils.
Recommended
Souvenir pack from Garuda Indonesia, the national airline of Indonesia, c.1985.
Dutch costume playing cards made for the Dutch market in the second half of the 19th century.
Souvenir playing cards from Garuda Indonesia Airlines, the national airline of Indonesia.
"Double Happiness" brand Hakka [客家] playing cards used by Hakka ethnic communities who have a separate identity from Cantonese,
Four Colour Cards made in Belgium for Far Eastern markets
Chinese "Chi Chi Pai" Playing Cards by Mesmaekers Frères for Far East market, c.1890.
These Simpsons playing cards were created for a t-shirt competition. Each card representing a member of the Simpsons family.
Playing Cards from Malaysia.
The Portuguese were the first Westerners to trade with Ayutthaya in Thailand in the 16th century. Traders also arrived from India, Japan, the Arab world, England, Holland and France.
The Chinese took their cards with them wherever they travelled and traded in the East, and we find Chinese cards in use not only in the mainland but also in Hong Kong, Malaysia, Indonesia, Taiwan, Singapore, North Borneo and Vietnam.