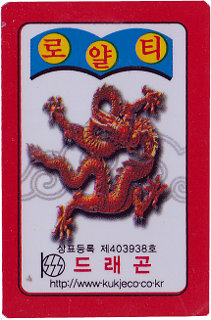 Hwatu - Korean Flower Cards
Hwatu cards are the Korean version of Japanese Flower Cards with red backs. The cards came over to Korea when the Japanese occupied it during 1905-1945. The locals took to this game swiftly and before long an idiosyncratic local version appeared. The differences between the Japanese and the Korean decks are slight, mainly in the colouring of the cards which is very vibrant.
The cards are printed on thick, red plastic, instead of the laminated board (with turnover edges), used in Japan. On some of the cards you will notice the word "光" meaning 'bright', used to identify certain high scoring cards, a feature absent in the Japanese one. The 'moon' card of the month of July (top row, 3rd from left) has the maker's name in the 'moon'. The deep purply blue used in the Japanese cards has been replaced with a light blue in the Korean ones. The deck has an extra 6 cards, used as bonus cards.
See also: Royal Gold Hwatu Cards • Diamond brand Hwatu • Waddamda Hwatu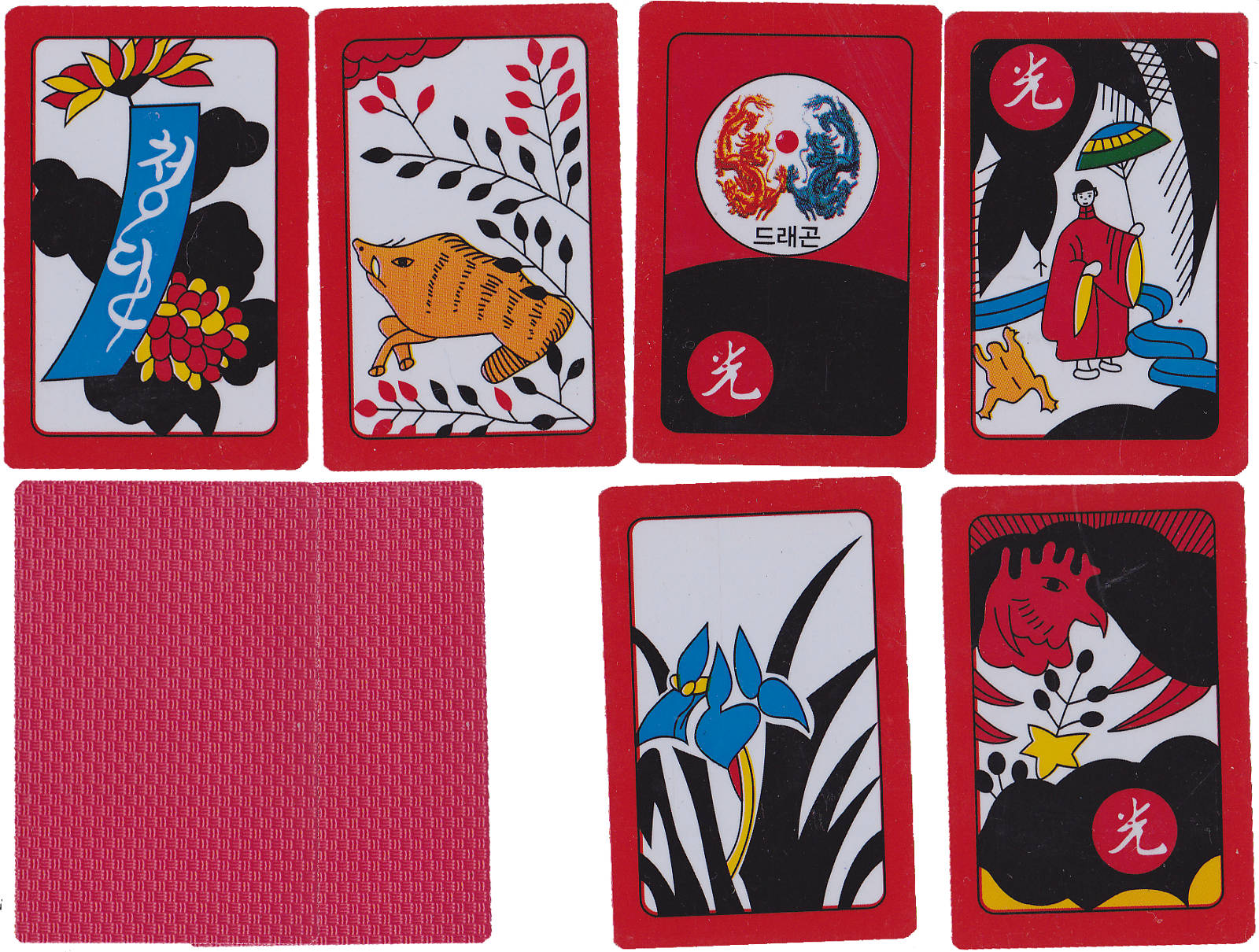 Member since February 01, 1996
View Articles
Curator and editor of the World of Playing Cards since 1996. He is a former committee member of the IPCS and was graphics editor of The Playing-Card journal for many years. He has lived at various times in Chile, England and Wales and is currently living in Extremadura, Spain. Simon's first limited edition pack of playing cards was a replica of a seventeenth century traditional English pack, which he produced from woodblocks and stencils.
Recommended
One Piece Hanafuda King card set published by Beverly Enterprises Inc, Tokyo, 2010
This special 'Hwatu' card set has all the traditional 48 flower cards given a modern graphic treatment.
"Girls' Generation" (Korean: 소녀시대; Sonyeo Shidae) is a nine-member South Korean pop girl group formed by S.M. Entertainment in 2007.
Each card has a colour drawing of a Korean building, museum or tourist attraction with a brief description and details of how to get there.
Hwatu (화투) cards originally came about because gambling with four-suited decks was outlawed. This ban prompted the creation of new decks and a new game.
Hwatu - Korean Flower Cards. The cards are printed on thick, red plastic, instead of the laminated board (with turnover edges), used in Japan.
The game of Hanafunda was introduced into Korea by the Japanese and modified somewhat by the Koreans.
Japanese Flower Cards (Hana Fuda) made by Nintendo, Japan, 2008.
Hana Fuda playing cards hand-made by Patricia Kirk, 2003