Published June 05, 2022
•
Updated December 04, 2022
Suchard chocolate miniature playing cards
A miniature pack of playing cards advertising Suchard chocolate and cocoa made in the early 1900's.
The Suchard chocolate factory is one of the oldest chocolate factories in Switzerland and was founded in 1826 by Phillipe Suchard in Serrières. After many takeovers, mergers and moves Suchard chocolate is now produced in a plant in Bludenz, Austria and Bern, Switzerland. This colourful and attractive miniature pack of 32 cards of only 33 x 19 millimetres in size was, judging by the style and printing, probably made in the early 20th. century in colour lithography. It has historical style courts and aces with a military theme and interestingly styled suit signs. The backs are plain brown with the name of the product. The aces and backs name two products, namely Cacao Suchard or Chocolat Suchard, which indicate that the cards may have been collected individually as inserts in packets of chocolate or cocoa. I have not been able to find any references or information about these cards, so if any readers can provide more information please contact me►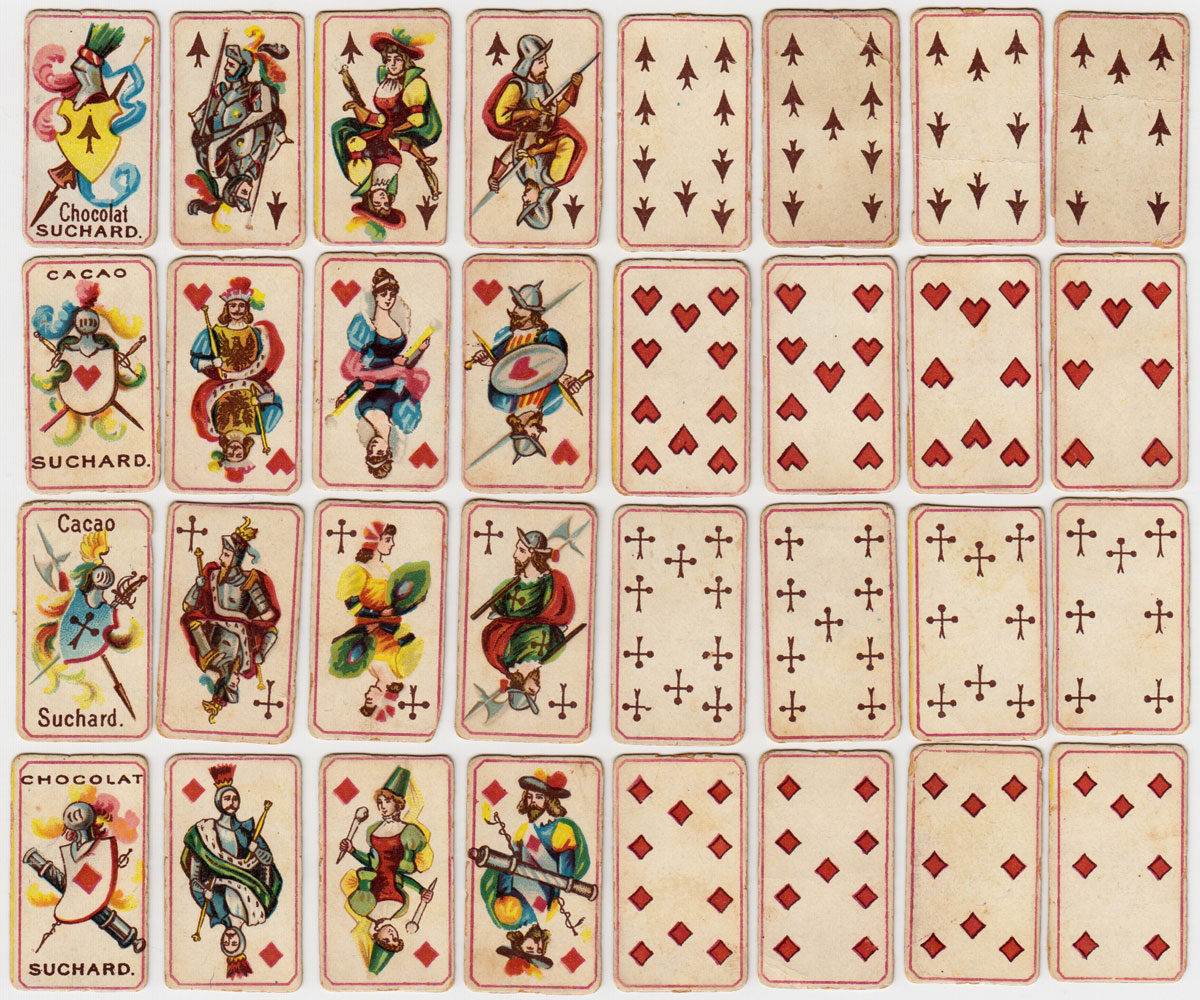 Below: the backs of the cards name two products.



Sources: Wikipedia
Member since February 01, 2016
I'm British but I have now lived in the Netherlands for more than 50 years and am still enjoying every minute of it. I started collecting playing cards in the early 1980's after speaking with my neighbour who was at that time a croupier in a casino. I started with just collecting jokers, but that soon led me to complete packs of cards and eventually to specialising in old and antique playing cards, particularly those of C.L. Wüst of Frankfurt, Germany. I am presently the Dutch representative of the I.P.C.S. and the auctioneer at the IPCS conventions.