East Slavonic Mythology
featuring scary creatures from the watery underworld...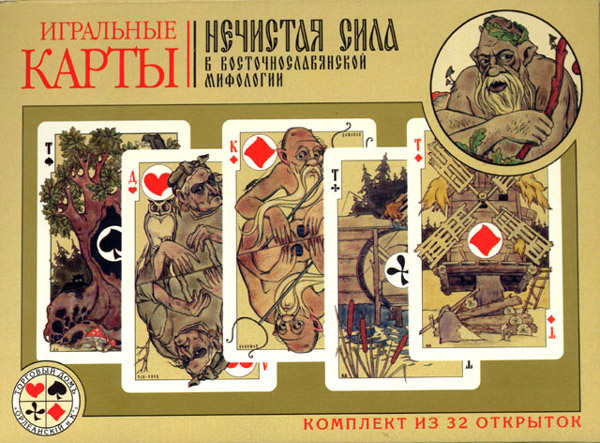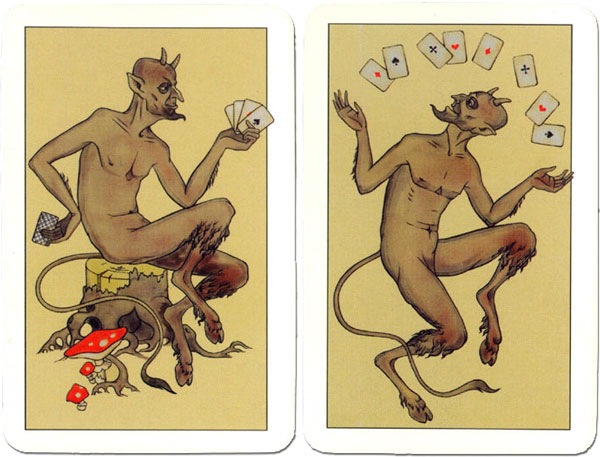 The creatures in the deck, subtitled "the Evil Force", are derived from popular Slavonic mythology, kept alive from pagan times as an integral part of the national culture, and which exist in Russian folktales and other literature. Besides children enjoying these wonderful stories before bedtime, these stories have also been valued by adults for the many great lessons that they teach. Aleksey Orleansky has depicted a menagerie of ghosts, water nymphs, spirits, demons and other malevolent beings which crawl out of the water in the middle of the night to entice, torture or suck people into the swamps. However, they also appear to spend a lot of time just chilling, smoking pipes or loitering at the water's surface. The numeral cards (see below) show wild animals, insects, birds and other creatures.
East-Slavonic Mythology playing cards, designed by Aleksey Orleansky, 1st edition numeral cards.