Published May 08, 2014
Updated May 29, 2019
Krienser Fasnachts-Jass 1988
The Krienser Fasnachts-Jass deck was designed and published by Léon Schnyder from Kriens for the 1988 Fasnacht Carnival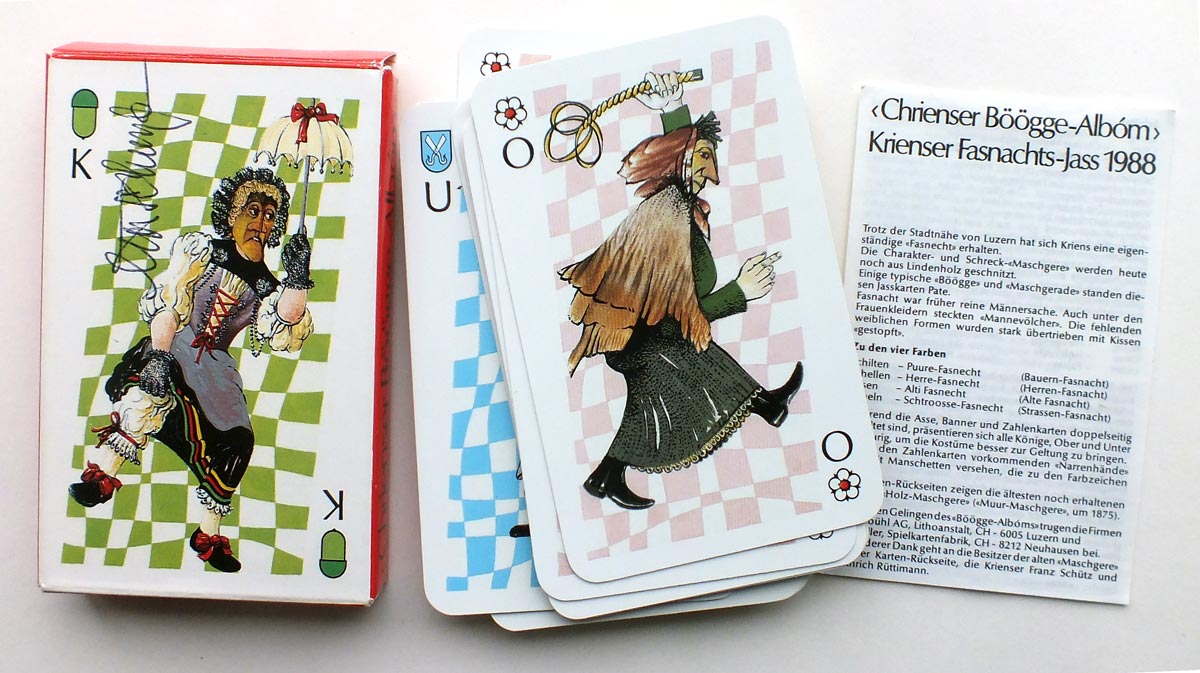 Krienser Fasnachts-Jass 1988
Designed by Léon Schnyder
The Krienser Fasnachts-Jass deck was designed and published by Léon Schnyder from Kriens for the 1988 Fasnacht Carnival and titled "Krienser Fasnacht-Jass" or "Chreinser Böögge-Albóm" in the local dialect. The Aces and numeral cards are double ended and have non-standard arrangements for the pip signs. The courts are single-ended and show characters from the carnival against chequered backgrounds. Those from the suit of shields are dressed as farming people whilst the other suits show different carnival characters.
Member since February 01, 1996
View Articles
Curator and editor of the World of Playing Cards since 1996. He is a former committee member of the IPCS and was graphics editor of The Playing-Card journal for many years. He has lived at various times in Chile, England and Wales and is currently living in Extremadura, Spain. Simon's first limited edition pack of playing cards was a replica of a seventeenth century traditional English pack, which he produced from woodblocks and stencils.