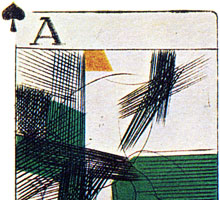 Egbert Moehsnang: 'Abstract Bridge'
Using XV century card making technology, i.e. copperplate engraving, Egbert Moehsnang (b.1927- ) follows the tradition of master craftsmen and artists who create original playing card designs. Moehsnang allows his creative freedom full expression in these "Abstract Bridge" cards which were first produced in a limited edition of 80 hand-made sets. Later the cards were printed by AGM Müller in 1978.
It doesn't matter if you hold the cards up-side-down. The suit signs and indices are clear and easily recognisable, and each suit has a different predominant colour. The juxtaposition of traditional craft techniques with abstract modern design could be seen as postmodern i.e. based on the view that reality is not mirrored in human understanding, but is constructed as the mind tries to understand its own personal reality...