Published July 01, 2012
•
Updated February 14, 2023
Karl Gerich
Karl Gerich's interest in playing-card production came to the fore while studying at Bath Academy of Art from 1975. Karl produced a unique range of hand-made playing cards during the period 1980-1998.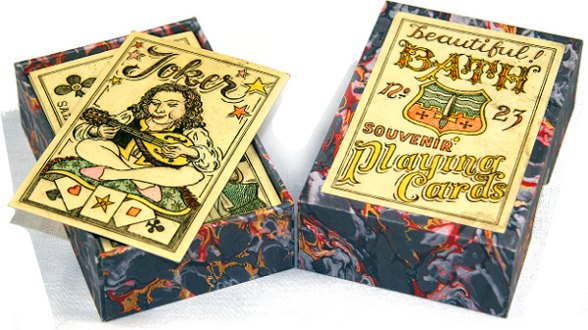 The Playing Cards of Karl Gerich
Karl Alexander Gerich's interest in playing-card production came to the fore while studying at Bath Academy of Art from 1975. Karl produced a unique range of hand-made playing cards during the period 1980-1998. His designs were inspired by early traditional playing cards, the English pattern and other European designs, packs produced by 19th century European manufacturers (B. Dondorf, Glanz, van Genechten, VSS, Grimaud, Piatnik, etc), resurrected once more by Karl's burin and given a new lease of life. He produced mainly French-suited packs with 32 or 52 cards, and his packs often included exotic pictorial Aces and special Jokers.
No.1 "Early English pattern", 1982
No.2 "Hall of Mirrors", 1982
No.3 "Four Elements", 1983
No.4 "XP8 Patience", 1981
No.5 "Standard English Pattern", 1984
No.6 "Austrian", 1982
No.7 "Gerich", 1984
No.8 "Cartes Turques", 1985
No.9 "Deutche Karten", 1982, 1990
No.10 "Four Corners", 1984-1991
No.11 never completed
No.12 "Rheinland", 1991
No.13 "Milanesi", 1997
No.14 "Rouennais"
No.15 "Trappola Française", 1985, 1990
No.16 "Patience Indien", 1991
No.17 "Curieuse", 1987
No.18 "Cartes Turques Patience", 1991
No.19 not published
No.20 "Rouennais A", 1990
No.21 "Patience", c.1991
No.22 "Rouennais", 1990-91
No.23 "Beautiful Bath", 1996
No.24 "Polonaise", 1988
No.25 "Great Mogul", 1987
No.26 "King Harry", 1991
No.27 "Nibelungenkarten", 1989, 1994
No.28 "Mayday", 1989
No.29 "Victoria Playing Cards", 1988
No.30 "Merry Andrew", 1989
No.31 "Bongoût/Triton", 1989
No.32 "Aquae Sulis", 1990
No.33 "Views of Bath", 1992
No.34 "Lettische Patience", 1994
No.35 "Ganesh", 1992
No.36 "Cosi Fan Tutte", 1994
No.37 "EPCS Transformation Pack", 1993
Packs were usually numbered somewhere on the Joker, a court card or the box, and the numbering system has been worked out from there, with corrections by Karl. Some packs were untitled / unnumbered*.
Karl worked from his sunny studio flat in St Peter's Terrace, Bath (UK) where he had his own Adana printing press. All his packs were produced from steel or copper plate etchings and hand coloured by himself or his partner Georgina Harvey. They traded as "Victoria Playing Card Co." between 1 May 1989 - 17 December 1990, otherwise Karl traded as himself.
By looking at Gerich's patterns and designs, like music or poetry, they show where the artist finds beauty… In general Gerich leans towards humanity in his designs, with excellent characterisation to his subjects. He reveals a feeling for natural beauty and artistic rhythmical movement. But the strangest other-worldly creatures also intrude, suggesting the supernatural. We see chimera monsters, mermaids and satyrs, phoenixes, playful lovers and cupids, sea dragons and serpents, the mystique of orientalism, tricksters and jesters... The romance of distant lands finds expression in the exotic blend of Turkish and Hindu fantasies (Patience Indien No.16, Cartes Turques No.18, Ganesh No.35), whilst the theme of sea-borne trade and adventure is again carried further (Four Corners No.10, Milanesi No.13 and Triton No.31). Roman mythology is apparent in the Beautiful Bath No.23 and Aquae Sulis No.32 packs, whilst slightly grotesque gothicism characterises his Four Elements No.3 and Deutche Karten No.9. The opera is the subject of a further two packs (Siegfried No.27, Cosi Fan Tutte).

References:
Copyright:
Member since February 01, 1996
Founder and editor of the World of Playing Cards since 1996. He is a former committee member of the IPCS and was graphics editor of The Playing-Card journal for many years. He has lived at various times in Chile, England and Wales and is currently living in Extremadura, Spain. Simon's first limited edition pack of playing cards was a replica of a seventeenth century traditional English pack, which he produced from woodblocks and stencils.