Published February 14, 2010
•
Updated June 12, 2023
Thomas Creswick
Thomas Creswick was a paper-maker and wholesale stationer. Playing cards were produced from c.1820 onwards.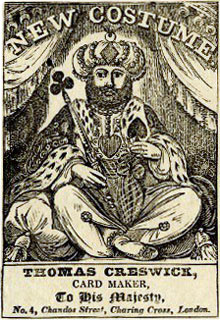 Thomas Creswick, 16 Skinner Street, Snow Hill, London
Thomas Creswick was a paper-maker and wholesale stationer who first entered the card business in 1812. Standard woodblock & stencil playing cards were produced from c.1820 onwards, following the traditional designs, including smaller-sized piquet packs and a special non-standard pack featuring historical kings and queens of various nations in c.1830 (shown below). Advertisements of the day mentioned that Creswick took great pains to make cards which slip easily in the hand whilst also introducing improvements in the manufacturing process. Duty Aces of Spades were registered from c.1820, and an exportation Ace of Spades in 1828.
Creswick was appointed as manufacturer of paper and cards to William IV in 1831 and he advertised as such in 1834. Thomas Creswick died at 12 Clarendon Place, Maida Vale in September 1840, age 66, described as cardmaker and stationer of Chandos St (Gentleman's Magazine, 1840, vol.168, p.553).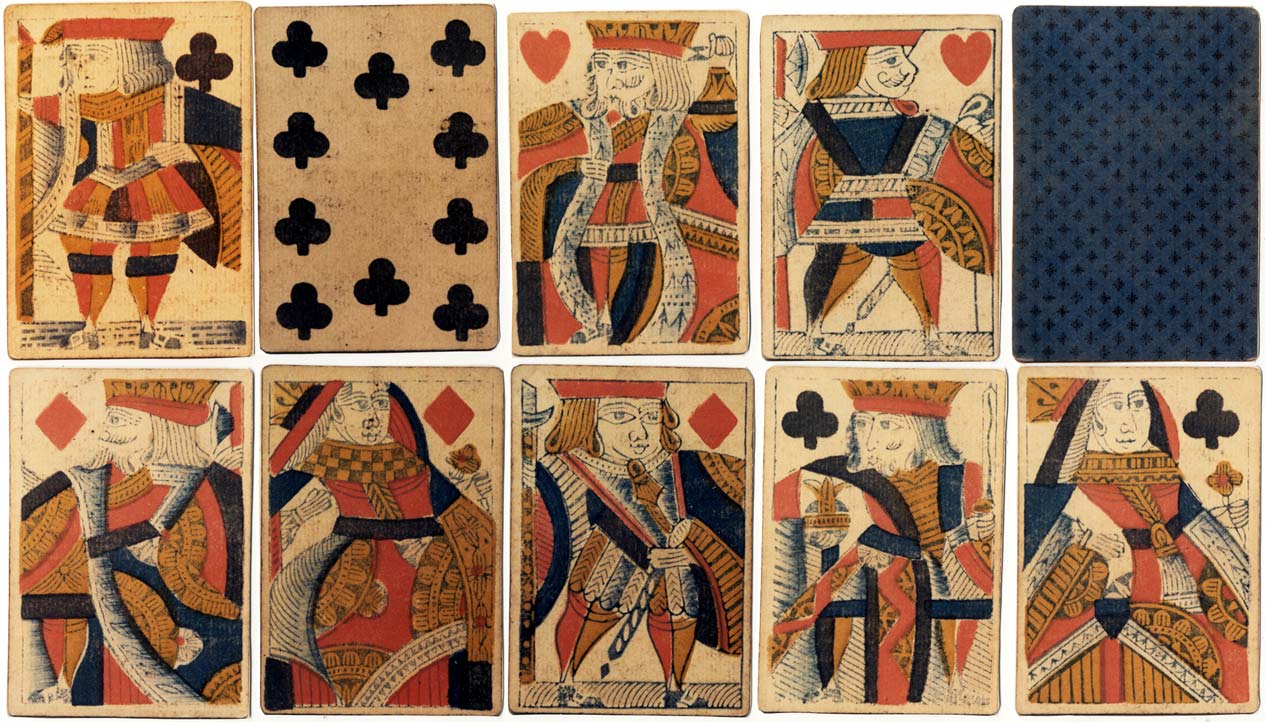 King of Clubs. Pope wrote "That long behind he trails his pompous robes. And, of all the monarchs only grasps the globe". The title "King of Clubs" was bestowed by Johnson on the Literary Club.
In his advertising sheet dating to about 1832, Creswick informed his customers that he had removed his 'Warehouse and Manufactory' to larger and more commodious premises at 4 Chandos St, 'where he has now room enough for the sale of Paper of every variety, as well as the goods of his own Production'. As well as writing paper and playing cards, he offered various of his own papers, including 'prepared smooth and rough surface' white drawing papers, 'tinted and coloured Drawing Papers, Originally invented by him with prepared Surface…'

---
Member since February 01, 1996
Founder and editor of the World of Playing Cards since 1996. He is a former committee member of the IPCS and was graphics editor of The Playing-Card journal for many years. He has lived at various times in Chile, England and Wales and is currently living in Extremadura, Spain. Simon's first limited edition pack of playing cards was a replica of a seventeenth century traditional English pack, which he produced from woodblocks and stencils.