Published November 23, 2015
•
Updated March 20, 2022
Beautiful Britain Series
The 'Beautiful Britain' series depicting seaside and country resorts was produced by John Waddington Ltd for the Great Western Railway and London and North Eastern Railway between 1924-1939.
The traditional way of selling playing cards was through the stationery trade and to advertisers. Mr Clarrie Hirst from Waddington's sales and marketing department came up with the idea of selling playing cards carrying an advertisement to the stationery trade. This became the basis of Waddington's 'Beautiful Britain' playing cards which depicted scenes of seaside and country resorts. The first 'Beautiful Britain' series was introduced in August 1924, subsidised to begin with by the Great Western Railway. Packs carried the name or initials on the reverse with monochrome photographs in sepia or green of popular scenic locations on the the railway's itinerary. This enabled beautifully printed playing cards to be sold through the stationery trade at a very competitive price due to this advertising.

This project was very successful and contributed to Waddington's rapid growth in the playing card field and to becoming competitors to the established De la Rue business. However, the Great Western Railway withdrew their sponsorship in 1925 but the series continued to be subsidised by the London and North Eastern Railway until 1929. New designs were produced by artists such as Austin Cooper & Tom Purvis for the new railway itinerary, printed in colour and with ornamental panels at each end, including Scarborough, Norwich, Cromer, the Yorkshire Coast, North Berwick, Edinburgh, Royal Deeside, Clacton-on-Sea, Fort William, Norfolk Broads, and York.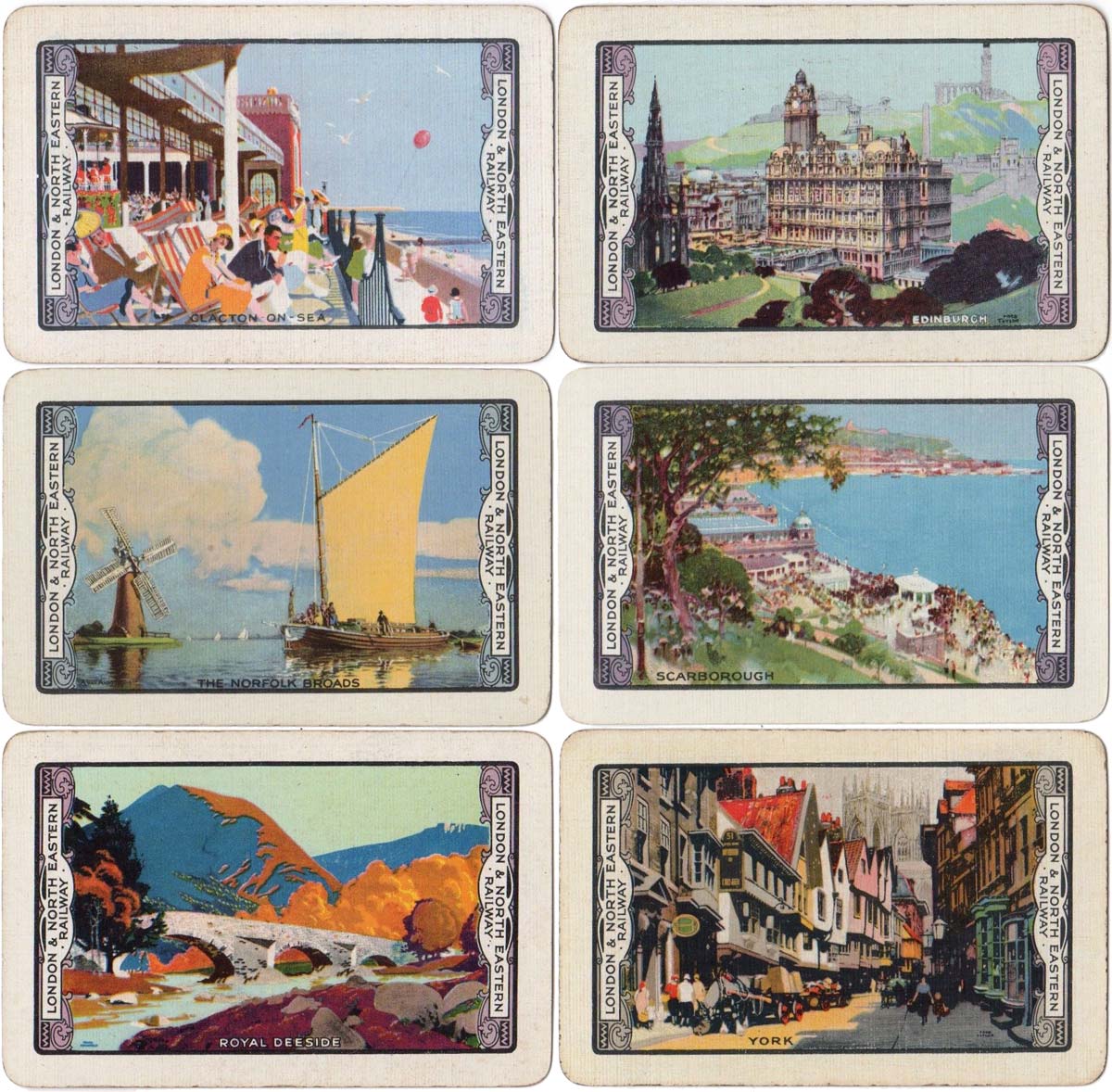 A second type of design for the L.N.E.R. was also printed in colour but with the wording inside a black border at each end. Designs known from this series include: Caister Castle, Forth Bridge, Scarborough, The Trossachs and Whitby.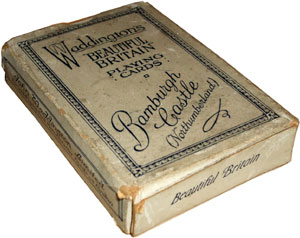 The General Strike in 1926 had adversely affected Waddington's well-being and in 1927 the more expensive process of colour printing was replaced with monochrome designs in sepia or blue-green on a lighter background. These monochrome designs were introduced in two different styles from etchings, mostly by Frank Henry Mason, with dotted borders or continuous borders. Scenes in this style include: Bamburgh Castle, Bridlington, Lowestoft, Newcastle-on-Tyne, Whitby, York [by Fred Naylor], Royal Deeside [by Sidney Lee R.A.], Houses of Parliament, Cruden Bay Aberdeenshire, Felixstowe, Harrogate, Scarborough [by Frank Newbould], Richmond Yorkshire, Hungerford Bridge London and Carlton Hill Edinburgh.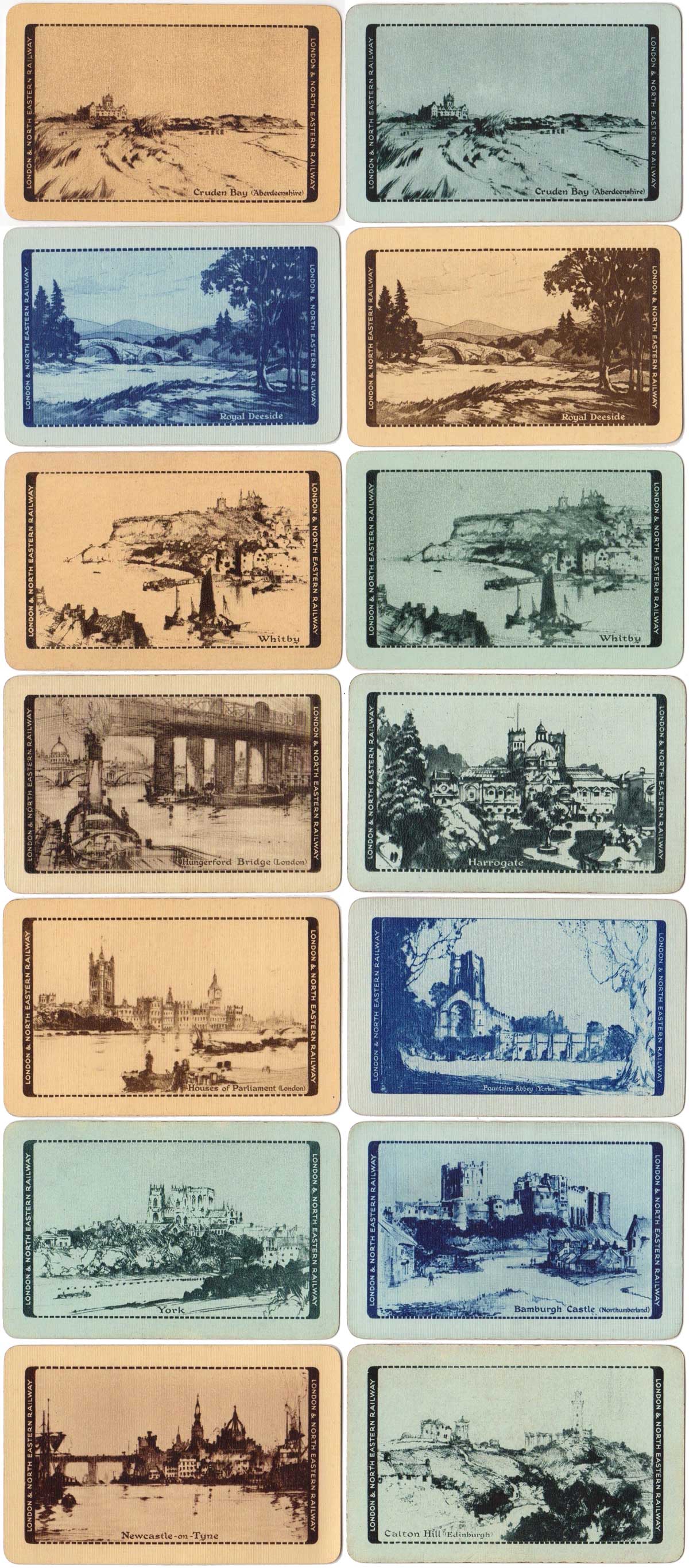 A special ace of spades was produced for the L.N.E.R. in two slightly different versions. The second version has a small scroll at the base of the spade motif with the legend "Kings Cross for Scotland shortest and quickest" which was one of their advertising slogans at that time→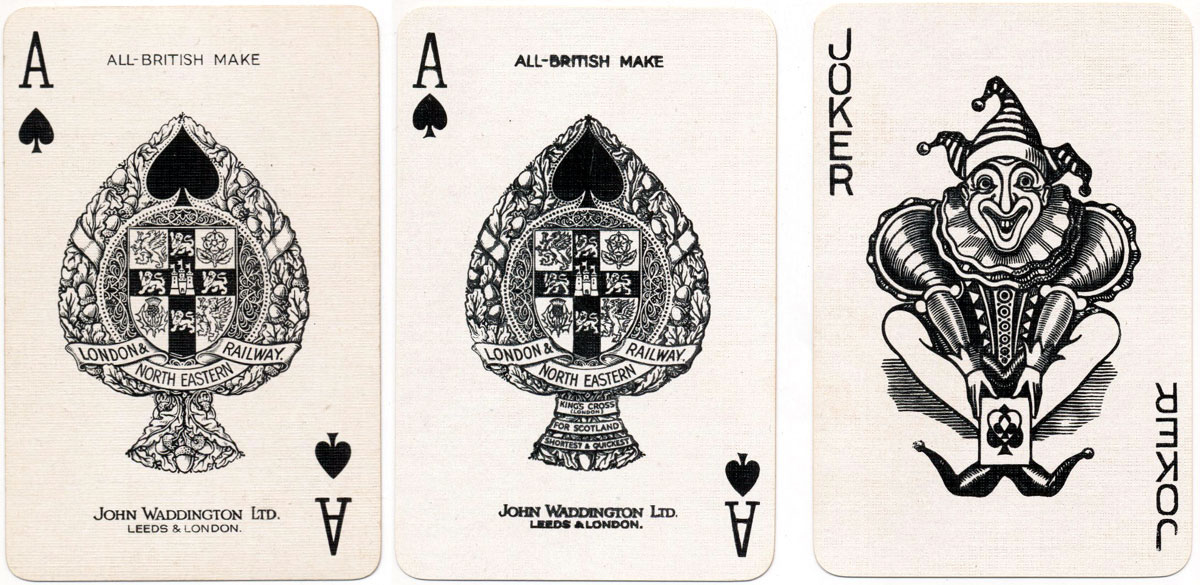 In 1930 the caption 'London and North Eastern Railway' was omitted on the back and the dotted border extended around the whole card. 12 photographic scenes were issued in 1930 and again 1931 in this style, including: Westminster Bridge and Houses of Parliament, Tower and Tower Bridge, Loch Long West Highlands, Fountains Abbey, Melrose Abbey, Cambridge, the Forth Bridge, Ely Cathedral, Norwich, the Norfolk Broads, the Yorkshire Coast and York Minster. In 1933 only five of the 1930 scenes were issued and in 1935 eight of the 1930 scenes were issued.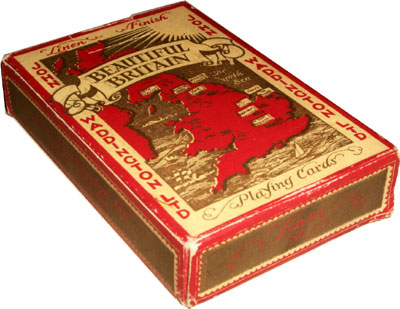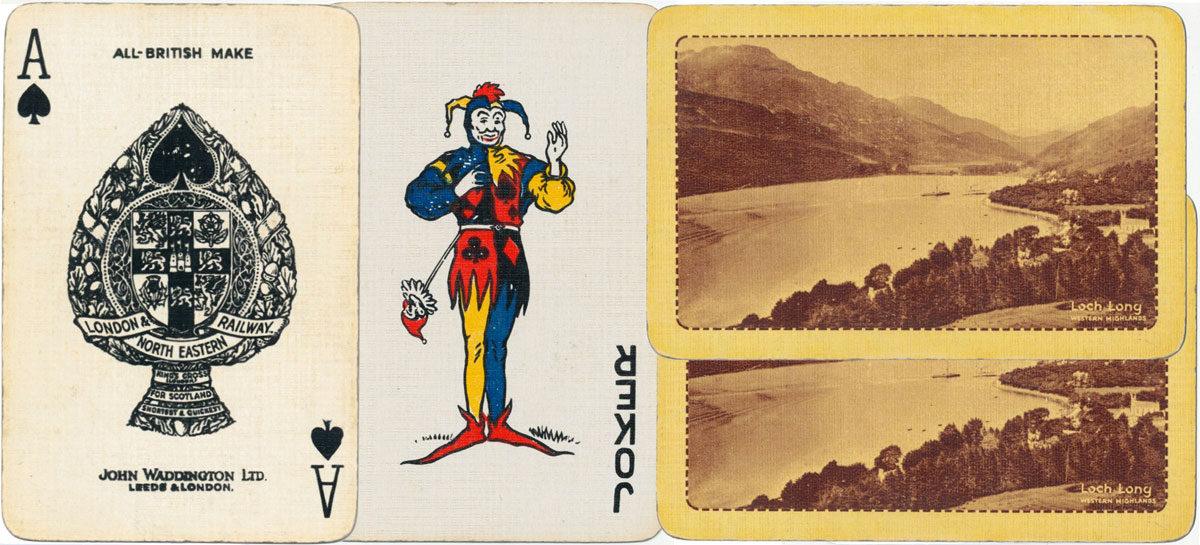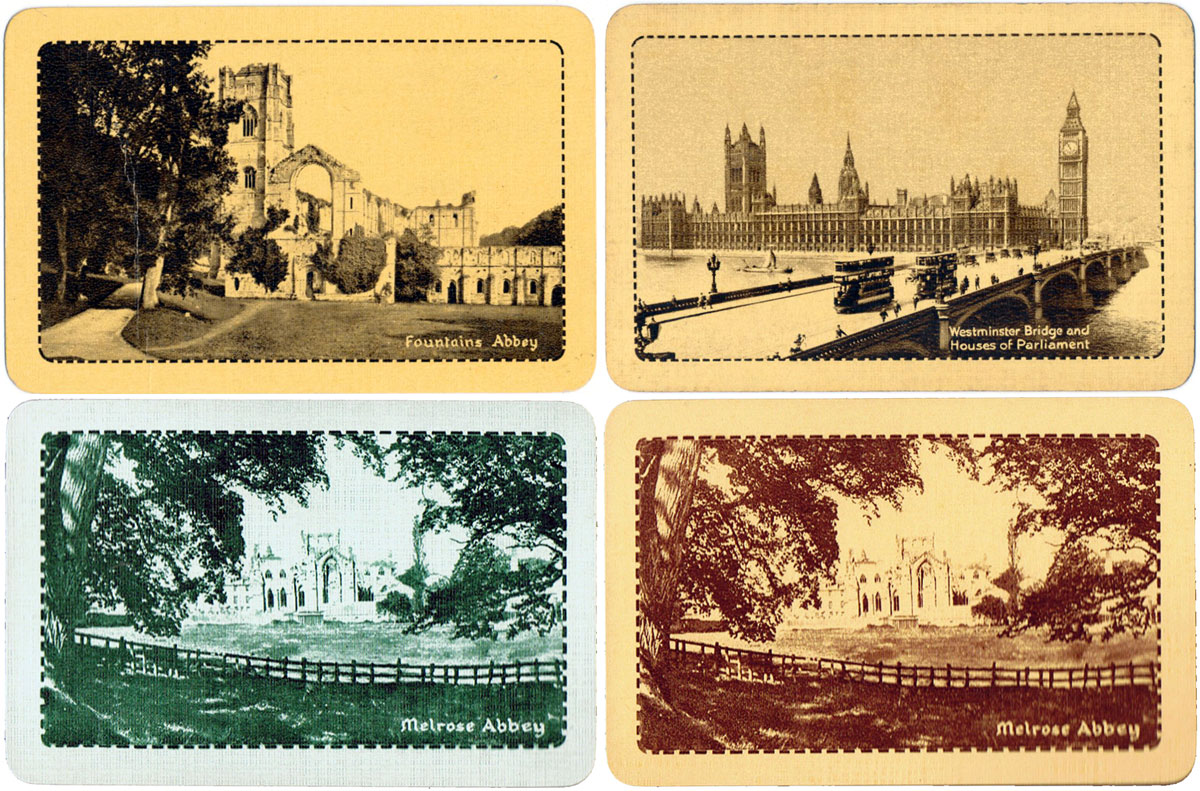 In 1938 the dotted borders were changed to a border on two sides only of 1 thick & 1 thin coloured lines and at least 16 different scenes were issued in this style, including: Norwich Cathedral, Tower and Tower Bridge, the Forth Bridge, Royal Deeside, Buckingham Palace, the Norfolk Broads, Big Ben London, Bootham Bar York, Oast House Kent, Conway Castle Wales, Bolton Abbey, Ben Nevis, Garnish Island, Glengarriff Co. Down, High Street Stratford-on-Avon, Lake District and Tower of London.

Member since February 01, 1996
View Articles
Curator and editor of the World of Playing Cards since 1996. He is a former committee member of the IPCS and was graphics editor of The Playing-Card journal for many years. He has lived at various times in Chile, England and Wales and is currently living in Extremadura, Spain. Simon's first limited edition pack of playing cards was a replica of a seventeenth century traditional English pack, which he produced from woodblocks and stencils.