Published July 30, 2015
Updated May 15, 2022
Binary Playing Cards
Promotional deck for Honeywell Computers by Brown & Bigelow c.1968 with the cards marked in binary notation
Honeywell Binary Playing Cards
Promotional deck for Honeywell Computers by Brown & Bigelow c.1968 supplied as a dual-deck in a clear plastic box, with the cards marked in binary notation. The backs of the cards show two sculptures made from computer components of the time - wire, integrated circuits, transistors, resistors, diodes, switches, connectors, wheels and pulleys - by Jack N. Rindner. These animal sculptures also featured in Honeywell's sucessful advertising campaigns for a number of years when they were competing against IBM to become the "Number Two" computer systems company, i.e. "the other computer company". The tiger was supposed to say "Ignore the computer if you dare" whilst the dragon says "Honeywell's new computers introduce a little magic to banking". Brown & Bigelow's "Nu Vue" brand was first produced in around 1960 and is mentioned on the joker in conjunction with the plastic coating.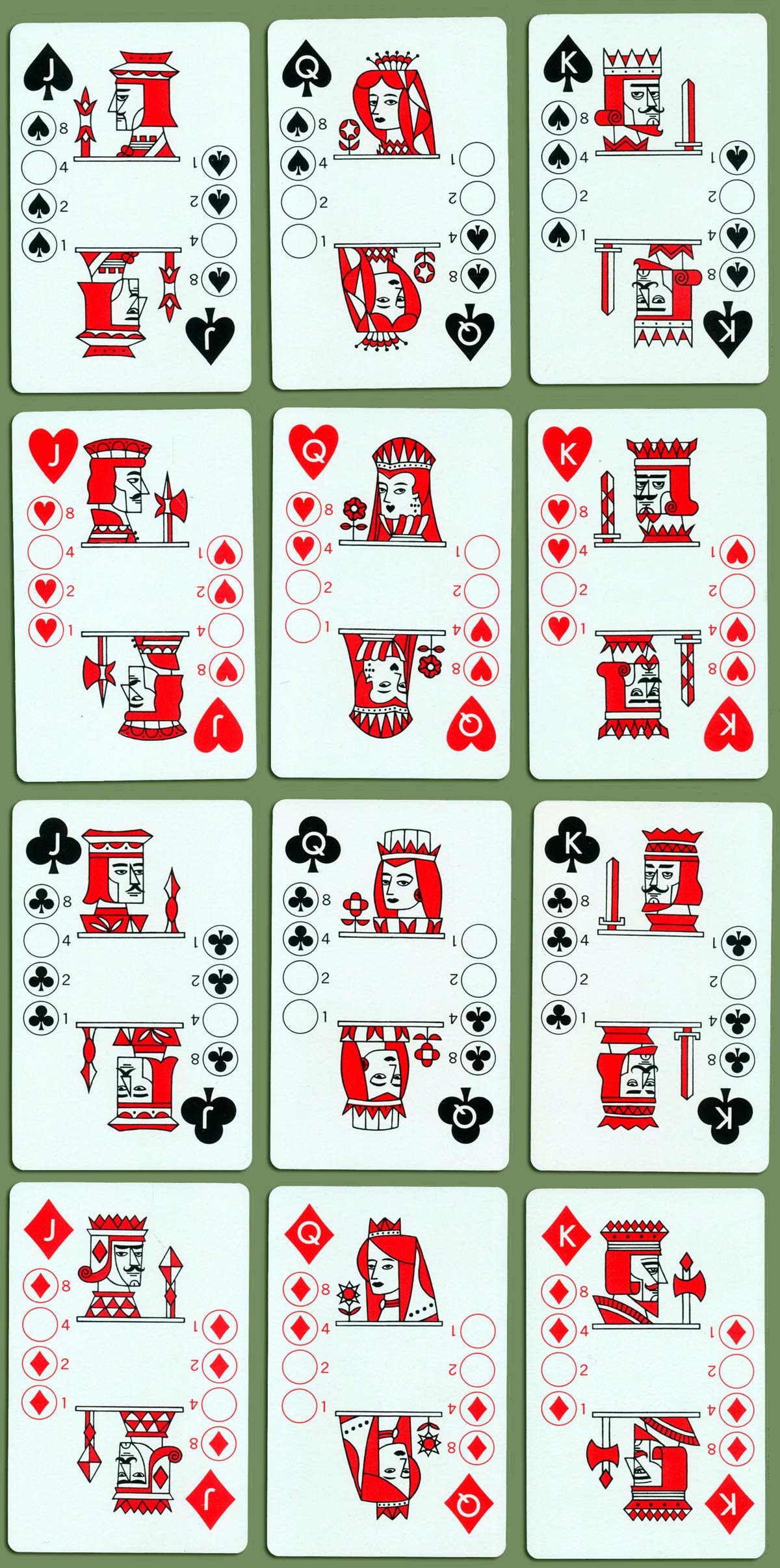 Member since March 02, 2012
View Articles
I have adored playing cards since before I was seven years old, and was brought up on packs of Waddington's No 1. As a child I was fascinated by the pictures of the court cards.
Over the next fifty years I was seduced by the artwork in Piatnik's packs and became a collector of playing cards.
Seeking more information about various unidentified packs I discovered the World of Playing Cards website and became an enthusiastic contributor researching and documenting different packs of cards.
I describe my self as a playing card archaeologist, using detective work to identify and date obscure packs of cards discovered in old houses, flea markets and car boot sales.