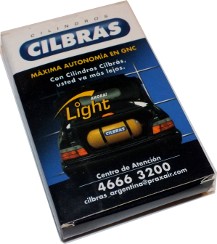 Cilbrás high-pressure cylinders
A special, non-standard pack manufactured by Gráfica 2001 for Cilbrás.
Cilbrás is a distribution branch of the Brazilian high-pressure gas cylinder and welding supplies company Praxair. Praxair Argentina supplies atmospheric (argon, nitrogen, oxygen) and process gases (carbon dioxide, helium, hydrogen), as well as speciality and medical gases, welding and medical equipment. The cards in this unusual deck promote the products by incorporating messages within the cards.