Published August 05, 2011
•
Updated June 29, 2023
Copag Baralho Espanhol
Copag Baralho Espanhol / Naipes Español.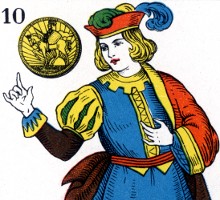 "Sevilha Tipo Espanhol" Spanish-suited cards from Brazil
COPAG's Spanish-suited deck, based on the Catalan pattern, was created around 1940 and is still in production. Some editions are called "Sevilha Tipo Espanhol," others "Baralho Espanhol," in both cases alluding to Spain rather than Portugal. Where once Brazil followed the Portuguese pattern of cards, in the 20th century the Spanish pattern was preferred, as shown here. An edition probably destined for Spanish-speaking markets such as Chile is called "Naipes Español Copihue." Copag's Ace of Coins has a design with a central medallion showing a mounted knight in armour, with caduceus and cornucopia in the background on a small plinth.

In 1987 COPAG's plant was moved to Manaus, in the Amazon region, a tax-free industrial district.

Member since February 01, 1996
Founder and editor of the World of Playing Cards since 1996. He is a former committee member of the IPCS and was graphics editor of The Playing-Card journal for many years. He has lived at various times in Chile, England and Wales and is currently living in Extremadura, Spain. Simon's first limited edition pack of playing cards was a replica of a seventeenth century traditional English pack, which he produced from woodblocks and stencils.