Published January 04, 2015
Updated June 07, 2022
Gumppenberg of Milan
Fine playing cards made by Gumppenberg of Milan evoking the style of antiquity, c.1830
Gumppenberg of Milan

Ferdinando Gumppenberg (active 1809-c.1846) was a major card designer and manufacturer in the early 19th century. Arriving in Milan in 1809 from Munich, he introduced German technical innovation and taste into Italy¹. He is best known for a great range of tarot packs, especially the very successful "Della Rocca" tarot, c.1830 and the non-standard "Corona Ferrea" pack having episodes in the history of the Lombard Iron Crown on the trumps.
Playing cards were also produced at Gumppenberg's Fabbrica in Milano. Many of his original designs were copied by other manufacturers (eg Edoardo Dotti). The court cards in this example are stencil-coloured woodcuts, with vibrant imperial-style costumes evoking antiquity but perhaps lacking in facial expressions.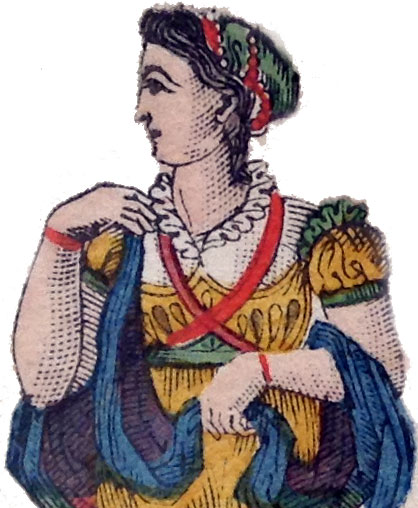 ¹ According to the publisher Osvaldo Menegazzi: "Ferdinando Gumppenberg is one of the greatest innovators and inventors, ingenious in the field of playing card production during the 19th century. When he arrived in Milan in 1809 from Munich, he brought German technology along with a trunk full of experience to share with Italy. He had studied with J. Fetscher and also brought with him the news, taste, fashion and trends that were of contemporary Germany and Austria during the 2nd half of the 1700s." See also: Gumppenberg en Dellarocca→
Member since February 01, 1996
View Articles
Curator and editor of the World of Playing Cards since 1996. He is a former committee member of the IPCS and was graphics editor of The Playing-Card journal for many years. He has lived at various times in Chile, England and Wales and is currently living in Extremadura, Spain. Simon's first limited edition pack of playing cards was a replica of a seventeenth century traditional English pack, which he produced from woodblocks and stencils.