Published August 24, 2014
Updated March 18, 2022
Hiroshige Ukiyo-e playing cards
"Hiroshige" playing cards drawn by Hiroshige Ando (1797-1858) at 53 stopoffs on the journey from Edo (Tokyo) to Kyoto.
Fine artwork on playing cards is often constrained or wasted by the small size of each card, so here we have brought these wonderful paintings back to life. The textured surface of the cards adds to the visual enjoyment of these remarkable paintings, whilst the slender corner indices are not excessively intrusive.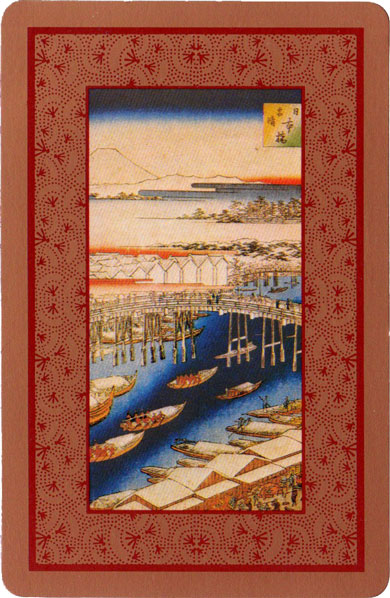 Considered to be the last of the great Ukiyo-e masters, Hiroshige Ando (1797-1858) was most famous for his 53 stations of the Tokaido (East Sea Road). Hiroshige started to learn to draw at the age of 15 with Ukiyo-e artist Toyohiro Utagawa. He avoided beautiful women and concentrated on the Kabuki actors and Geishas for his human subjects but he mainly produced landscapes. The Tokaido was the main highway in Japan going from Edo (now called Tokyo) to Kyoto a distance of 450 km on the island of Honshu. In the 17th century the government set up 53 stations along the route with stables and somewhere to sleep for travellers to rest during their journey. It is still the busiest highway in Japan today.
Ukiyo-e (浮世絵; Japanese pronunciation: [u.ki.jo.e]) was a Japanese genre of painting and woodblock printing with subjects typical of the decadent lifestyle of the middle classes from the 17th century to the 19th century. Their entertainment was the Geishas and the Sumo wrestling and often Courtesans. The Ukiyo-e, which means "pictures of the floating world", depicted these interests with pictures of the Geishas and Courtesans as beautiful women and the Kabuki actors and Sumo wrestlers as heroes. The natural world was also depicted by some of the artists.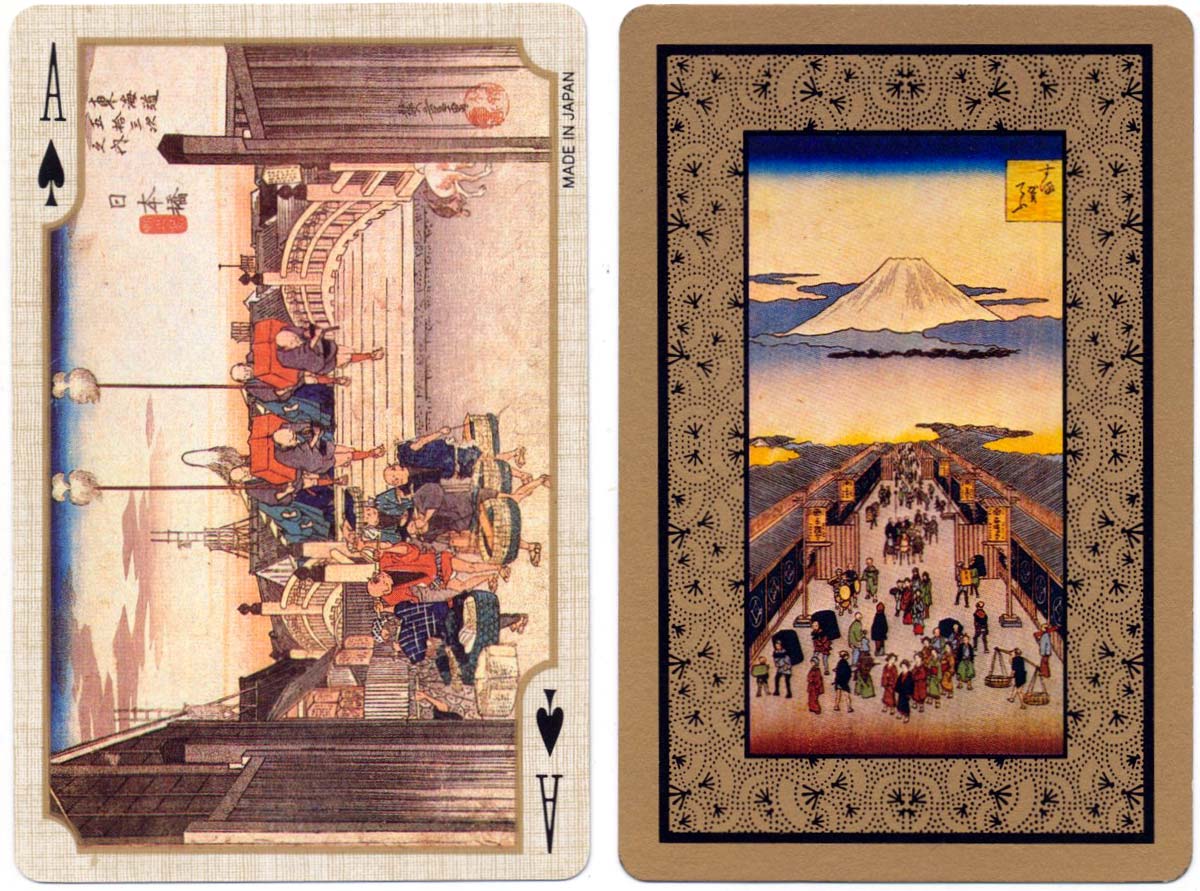 Member since February 01, 1996
View Articles
Curator and editor of the World of Playing Cards since 1996. He is a former committee member of the IPCS and was graphics editor of The Playing-Card journal for many years. He has lived at various times in Chile, England and Wales and is currently living in Extremadura, Spain. Simon's first limited edition pack of playing cards was a replica of a seventeenth century traditional English pack, which he produced from woodblocks and stencils.