Karlis Padegs, Riga (Latvia)
Karlis Padegs was a Latvian artist who designed 17 playing cards in 1936 - joker, aces, kings, queens and jacks. Apart from a one-man exhibition in Riga in March 1936 where he showed his playing cards, Padegs was seldom mentioned and the public showing of his work was practically prohibited due to the Soviet occupation. Over 60 years later, the drawings were made into a pack of cards (1997) with extra artwork taken from Padegs' other works to complete the deck (back, box, etc).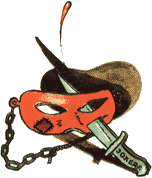 There were two editions, each of 1000 decks. The first edition has an incorrect index letter 'G' for 'King', which was corrected in the second edition. The more expensive second edition (1999) was a double set intended for Bridge players.
Return to Latvia Homepage →