Published October 21, 2014
Updated April 10, 2022
Bartlett Ackermann Transformation
Pictorial playing cards published by C. Bartlett, New York, 1833.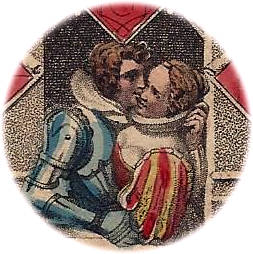 Bartlett Ackermann Transformation, 1833
Pictorial 'Transformation' playing cards published by Caleb Bartlett, New York, 1833. The original designs are believed to be by Rudolph Ackermann and published in the Repository of Arts magazine, London, 1818-19. The American edition shown here is almost an exact copy of the Ackermann version, except that the colouring is much heavier and brighter than in the originals so that some details of the design are obscured. The deck is accompanied by a booklet in which each card is described in detail see excerpt →
Member since February 01, 1996
View Articles
Curator and editor of the World of Playing Cards since 1996. He is a former committee member of the IPCS and was graphics editor of The Playing-Card journal for many years. He has lived at various times in Chile, England and Wales and is currently living in Extremadura, Spain. Simon's first limited edition pack of playing cards was a replica of a seventeenth century traditional English pack, which he produced from woodblocks and stencils.