Shakespeare Playing Cards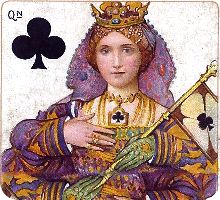 Shakespeare Playing Cards
C. W. Faulkner & Co Ltd, 79 Golden Lane, London E.C.
Faulkner & Co. Ltd were prolific card game manufacturers over a period of around 50 years, c.1870-1920. The Shakespeare Playing Cards pack was published in c.1906. The original paintings for the courts are by John H. Bacon. The chromolithographic printing was done in Germany by B. Dondorf and the name of the publisher appears not only on the Ace of Spades but also on the Jack of Clubs where Dondorf would normally print their own name. The cards were also issued by Dondorf as Shakespeare-Spielkarte, Whist No.192.
The courts are not named but a separate card lists the characters. These are: Spades, from 'Hamlet', K: Claudius King of Denmark, Q: Gertrude, J: grave digger. Hearts, K: Henry V, Q: Katherine, from 'Henry V', J: Hubert de Burgh from 'King John'. Clubs, K: Richard III, Q: Lady Anne, from 'Richard III', J: Jacques from 'As You Like It'. Diamonds, from 'Henry VIII' are K: Henry VIII, Q: Katherine of Aragon, J: Sir Thomas Lovell.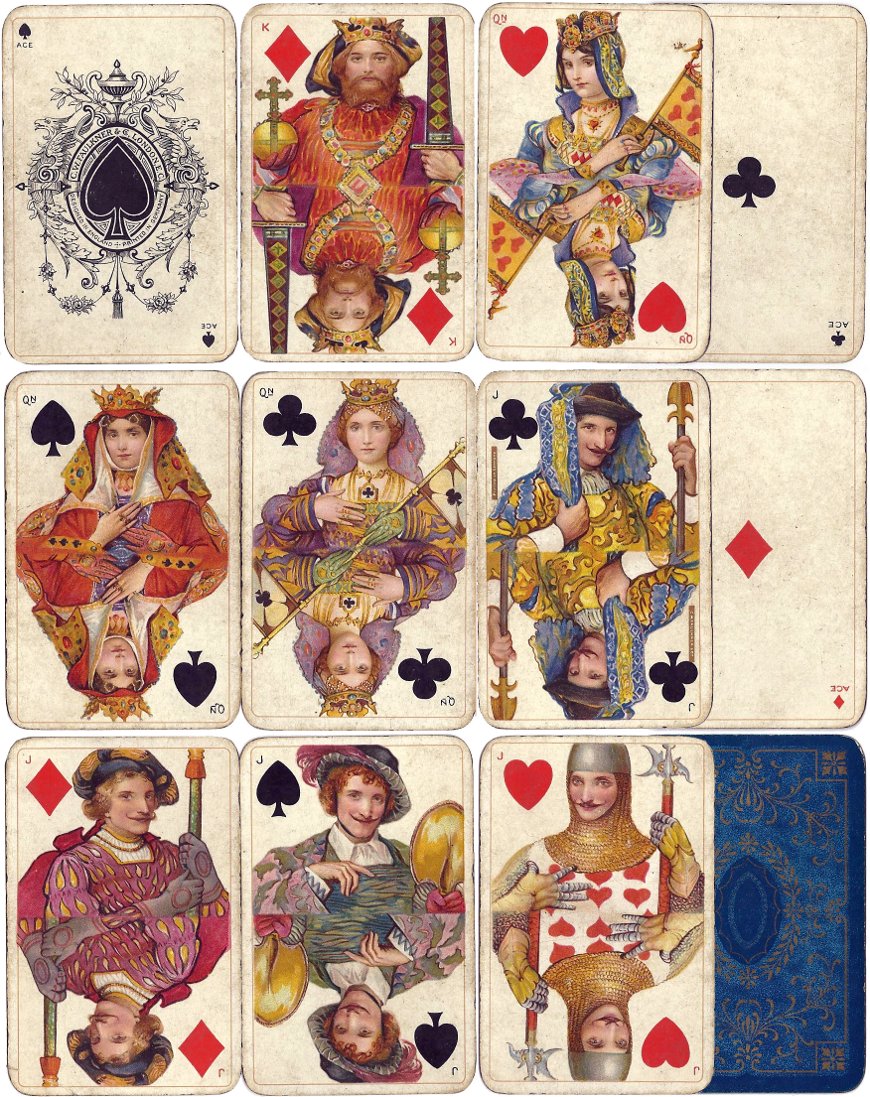 C. W. Faulkner & Co. also produced a large catalogue of children's indoor games such as Totum, Shakespearean Misfitz, Dolly Dump Misfitz, Fairy Legend Misfitz, Hurry-up Misfitz, Wonderland Misfitz, Little Folk Misfitz, Patriotic Misfitz, Funny Folk Misfitz, Many Folk Misfitz, Zooloo Misfitz, Golly Misfitz, National Misfitz, Nursery Rhymes Misfitz, Kings and Queens of England Misfitz, Flyto, Aerito, Halma, Ludo, All The Winners!, Race Cardo, Fee-Fi-Fo-Fum, Happy Families, Busy Families, Bargains, Fighting for the Standard, Mallentino, Questions & Answers, Stock Exchange, Musical Notes, Spot it, Union Jack, The Cat & The Mouse, Attracto, Association Football, Cries of London, Farmyard Snap, Kicardo, Bluffing Snap, Domestic Economy, Card Golf, Musical Snap, Flora, Authors, All the Winners, Little Folk, Busy Folk, Wonderland, International, Many Folk, Animals, Our Pet Snap, Zooloo, Circulating Library, Fox & Hounds, Fairy Tales, Empyr as well as Jig-Saws.