Published July 03, 1996
Updated June 19, 2022
Naipes Finos — No.304 Spanish Pack
Spanische Spielkarten "Naipes Finos" No.304, manufactured by B. Dondorf designed by the catalan artist Apel-les Mestres, Barcelona, 1902.
Spanische Spielkarten "Naipes Finos" No.304 manufactured by B. Dondorf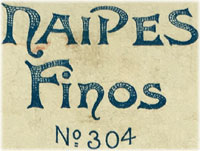 Designed by the catalan artist Apel-les Mestres, Barcelona, 1902, the designs were also published in Portugal by Costa y Valerio, c.1905. Probably produced mainly for export to Italy, Spain or Spanish colonies in South America, the cards are a relatively close imitation of the standard Spanish pattern but more elaborately decorated and coloured using the chromo-lithographic technique.
See also: Dondorf Homepage • Cartes Comiques, c.1860 • Four Continents, c.1870 • Four Continents Patience • Club Karte • Tarot Microscopique, c.1870 • Einköpfige Deutsche Spielkarte • Doppelköpfige Deutsche Spielkarte / Gaigel-Karten • Whist No.80 • Whist No.122, "Rhineland" • Mittelalter No.150 • Whist No.160, "Baronesse" • Whist No.192 / Shakespeare-Spielkarte • Lenormand Cards • Poker No.140 • Neue Klubkarte No.422 • Kinder-Karte • Deutsches Luxusbild No.417 • Promotion deck for Saks & Company, New York, c.1930 • Superfine Playing Cards No.1101 • Dondorf patience book
Member since February 01, 1996
View Articles
Curator and editor of the World of Playing Cards since 1996. He is a former committee member of the IPCS and was graphics editor of The Playing-Card journal for many years. He has lived at various times in Chile, England and Wales and is currently living in Extremadura, Spain. Simon's first limited edition pack of playing cards was a replica of a seventeenth century traditional English pack, which he produced from woodblocks and stencils.