Published August 09, 2011
Updated March 16, 2022
C.W. Faulkner
C. W. Faulkner & Co Ltd, London, an important publisher of games, pictorial souvenirs, children's books, and postcards.
C. W. Faulkner & Co Ltd, 79 Golden Lane, London E.C.
C W. Faulkner & Co were prolific card game manufacturers and art publishers for over 80 years (c.1870-1950s). Faulkner was originally in the Christmas card business together with Albert Hildesheimer working as lithographers and printing in gravure. In 1885 the partnership ended with Faulkner taking over the business, becoming a limited company in 1905. They published a number of family card games illustrated by well-known artists of the day, including Ethel Parkinson (1868–1957), John H. Bacon (1865–1914), George Lambert (1873–1930) and Albert Ernest Kennedy (1883–1963). C. W. Faulkner and Co also produced all types of Calendars, Christmas and New Year Cards, Birthday Cards, Painting Books and Boxes, Motto Cards, Diaries, Story Books, etc. and in 1922 they were cited as "The Leading Art Publishers". Many of their cards were printed in Germany and Austria.
The principal game titles published over the years include:
Bluffing, Union Jack, Misfitz, Domestic Economy, Musical Snap, Fairy Tales, C.W.F Snap, Flora, Card Golf, Kings and Queens of England Misfitz, National Misfitz, Fairy Legend Misfitz, Animal Misfitz, Golly Misfitz, Society Misfitz, Many Folk Misfitz, Shakespearian Misfitz, Patriotic Misfitz, Zoological Misfitz, Zooloo Misfitz, Wonderland Misfitz, Dolly Dump Misfitz, Hurry-up Misfitz, All The Winners, Race Cardo, Fee-Fi-Fo-Fum, Happy Families, Busy Families, Bargains, Fighting for the Standard, Mallentino, Questions & Answers, Stock Exchange, Musical Notes, Spot it, The Cat & The Mouse, Attracto, Association Football, Cries of London, Farmyard Snap, Kicardo, Steeplechase, Wordmaking, Authors, Animals, Our Pets Snap, Zooloo, Circulating Library, Fox & Hounds, Empyr as well as Jig-Saws.
---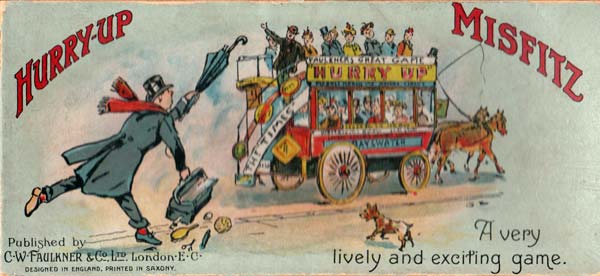 Usually it seems the older Misfitz games with 72 cards were reissued at a later date in packs of 54 cards or 60 cards. The later Misfitz games from around 1920, were issued in packs of 54 cards but there were only 9 figures with all the cards duplicated.
---
• "Three Bears Snap", designed by Albert E. Kennedy c.1930 →
• "Our Pets Snap", designed by Albert E. Kennedy c.1930 →
• "Fairyland Snap", designed by Albert E. Kennedy c.1930 →
---
Box Bottoms with lists of games
From the lists on the backs of boxes we can see new titles appearing over time. C.W. Faulkner & Co became a limited company in 1905.
Member since February 01, 1996
View Articles
Curator and editor of the World of Playing Cards since 1996.