C. W. Faulkner & Co Ltd, 79 Golden Lane, London E.C.
C W. Faulkner & Co were prolific card game manufacturers and art publishers for over 80 years (c.1870-1950s). Faulkner was originally in the Christmas card business together with Albert Hildesheimer working as lithographers and printing in gravure. In 1885 the partnership ended with Faulkner taking over the business, becoming a limited company in 1905. They published a number of family card games illustrated by well-known artists of the day, including Ethel Parkinson (1868–1957), John H. Bacon (1865–1914), George Lambert (1873–1930) and Albert Ernest Kennedy (1883–1963). C. W. Faulkner and Co also produced all types of Calendars, Christmas and New Year Cards, Birthday Cards, Painting Books and Boxes, Motto Cards, Diaries, Story Books, etc. and in 1922 they were cited as "The Leading Art Publishers". Many of their cards were printed in Germany and Austria.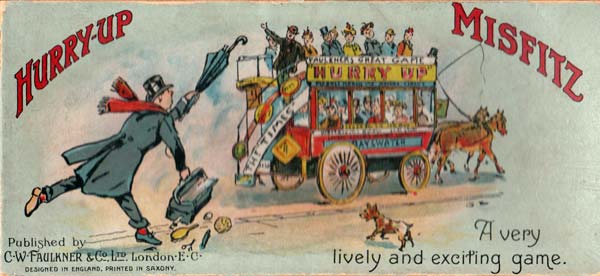 Usually it seems the older Misfitz games with 72 cards were reissued at a later date in packs of 54 cards or 60 cards. The later Misfitz games from around 1920, were issued in packs of 54 cards but there were only 9 figures with all the cards duplicated.
---
• "Three Bears Snap", designed by Albert E. Kennedy c.1930 →
• "Our Pets Snap", designed by Albert E. Kennedy c.1930 →
• "Fairyland Snap", designed by Albert E. Kennedy c.1930 →
Patriotic Misfitz, c.1909
Faulkner employed well known artists (in this case George Lambert) to design the cards and from the poor state in which most of them have survived it's obvious that children played with them a lot. The early packs contained 72 cards like this one which is one of the rarer games. See original description in C.W.F. Games list above.