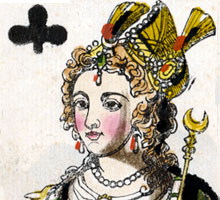 Imperial Royal Pack
Imperial Royal Playing Cards published by S. & J. Fuller, 34 Rathbone Place, London, 1828. The court cards show sombre portraits of historical figures of England, Spain, Turkey and France. Three of the Aces are decorated with royal insignia whilst the fourth (A♠) is the "Old Frizzle" duty Ace.
K♠ Henry VIII, Q♠ Anne Boleyn, J♠ Cardinal Wolsey
K♥ Francis I, Q♥ Eleonora of Portugal, J♥ Cardinal du Bellay
K♣ Suliman the Magnificent, Q♣ Roxalana, J♣ Bararossa
K♦ Emperor Charles V, Q♦ Isabella, J♦ Cardinal Adrian (afterwards Pope).