Published October 28, 2015
•
Updated June 11, 2022
DWYN
Dwyn - a card game about Welsh history designed by Simon Grennan and Christopher Sperandio, 2006.
Dwyn is "a mixed-up game of Welsh history for 2 to 6 players" designed by artists Simon Grennan and Christopher Sperandio [www.kartoonkings.com/] in 2006.. It is played with a custom six-suited poker deck divided into three colours, red, black and green, with figures drawn from Welsh history and popular culture. Characters include Owain Glyndwr, Captain Henry Morgan, Nest verch Rhys, a princess of Deheubarth, renowned for her beauty and Cerridwen, the Celtic goddess of inspiration. The six suits are: miner's tools, shield, rugby, leaf, castle, skull. Each suit has a head, torso, feet card plus numbers X, 2, 3, 4 and 5. In addition the deck contains three "steal" cards (double hands), six doublesided wild Dwyn cards and the "krown" card. The aim of Dwyn (Welsh for steal or take) is to get rid of all cards in hand and to lay a complete body (head, torso + feet) along with the "krown" card on the table.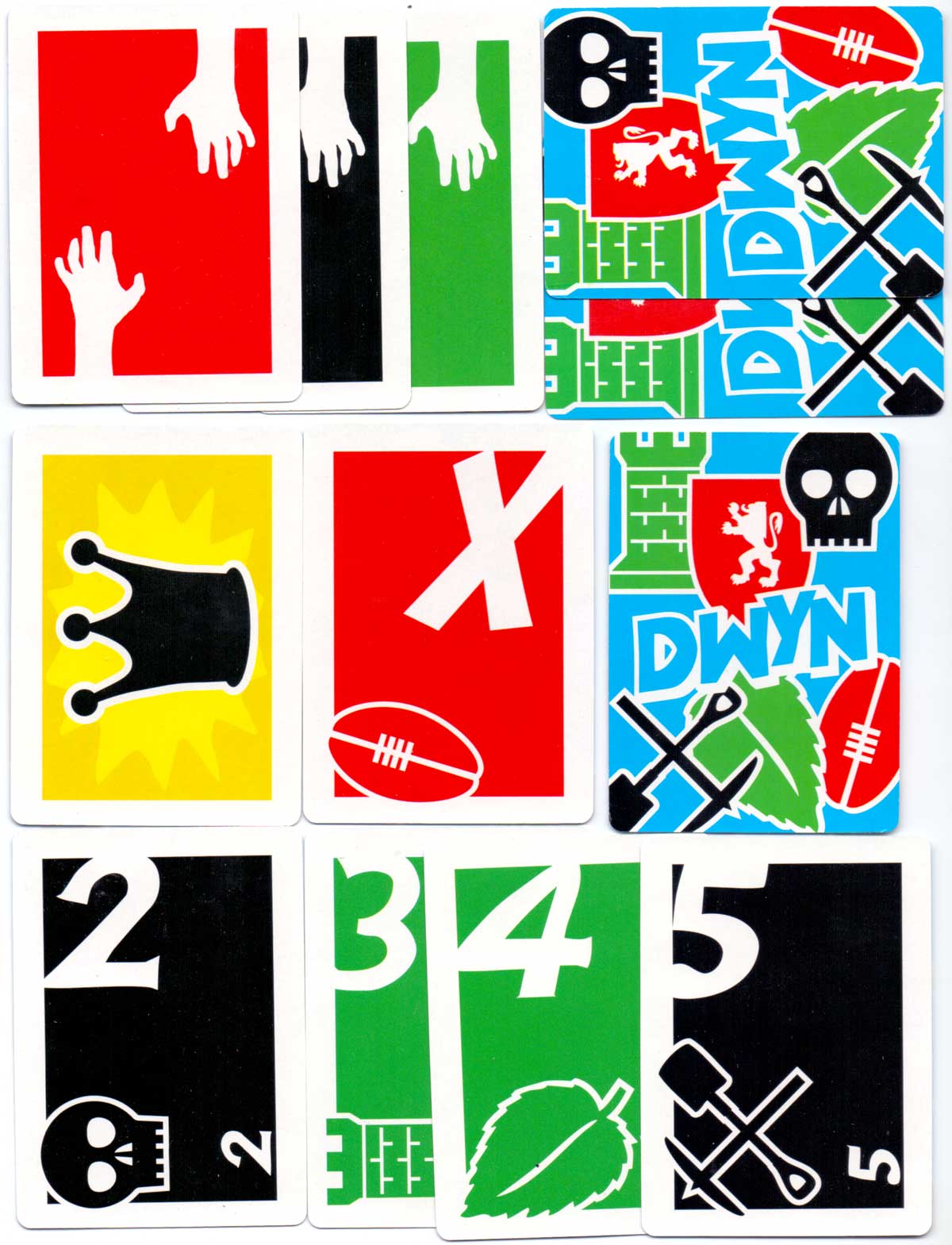 Member since February 01, 1996
Founder and editor of the World of Playing Cards since 1996. He is a former committee member of the IPCS and was graphics editor of The Playing-Card journal for many years. He has lived at various times in Chile, England and Wales and is currently living in Extremadura, Spain. Simon's first limited edition pack of playing cards was a replica of a seventeenth century traditional English pack, which he produced from woodblocks and stencils.