Published April 18, 2010
•
Updated October 01, 2023
Happy Families
Happy Families is probably one of the most popular card games ever invented, with educational benefits relating to sorting and matching of sets, as well as early literacy and elementary genealogy, flowers or bird identification, etc.
Introduction
The format of the pack of playing cards - with its suit symbols, numeral cards, court hierarchy - lends itself to many secondary purposes, especially early learning. Alongside standard playing cards we have every possible kind of card game. Victorian children's playing cards were intended to have educational value. A good example is Quartet games and Happy Families which have educational benefits for children, encouraging congenial play and developing counting, sorting and matching skills, as well as early literacy and familiarity with different occupations.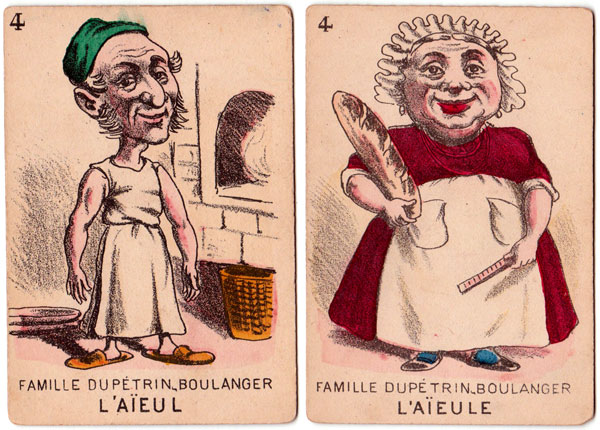 The Anglo Saxon "Happy Families" was possibly inspired by the "Doctor Busby" game invented by Anne Abbot in around 1840 to entertain her children and later sold to W & S B Ives of Salem Massachusetts. It proved to be very popular in the USA and UK. "Doctor Busby" has sets of 5 cards depicting four members of a household and a symbol of their trade. Jaques may have been influenced by this game when they published their "Happy Families" in about 1851.
The French game of "Jeu de Sept Familles" is first known from 1876 designed by André Gill, a cartoonist. The game was intended more for adults at first rather than children. The families consisted of Father, Mother, Son, Daughter Valet and Cook. They were also definitely not tradesmen as most of the Happy Families packs were. M Gill went for Doctor, Lawyer, General, Minister etc although there were a few unsavoury characters thrown in too, like a Smuggler. In time the families became more like the ones we are familiar with and had comic names with a connection to their trades.
Jaques' Happy Families, 1851
Happy Families is probably one of the most popular games ever invented. The production of Jaques' Original Happy Families in the mid-nineteenth century, with cartoons designed by John Tenniel (later Sir John, chief cartoonist of Punch), led to the appearance of numerous other 'family'-type games. It is interesting to see the great variety of different names given to the copy-cat games and the families. Jaques' Original Happy Families designs were copied, sometimes with only slight modifications, by later manufacturers as recently as the 1970s, testifying to their enduring popularity.
Various alternatives of 'Happy Families' were mirrored in several countries. A similar game appeared in Germany called 'Quartett' and a French game 'Jeu de Sept Familles' featured seven families with six members each. At that time Jaques may have been able to assert a copyright on the title, as some of the alternate names for 'Happy Families' were: Cheery Families; Funny Families; Merry Families; Jovial Families; Jolly Families and Familiar Families.
"John Bull" published by W. Cremer, c.1865
It is curious that "John Bull" is not called Happy Families although the sets are described as "families" on the instruction card. more →
De La Rue's Cheery Families, c.1890
The Chad Valley Games Happy Families, c.1914

Spear's Games Happy Families, c.1925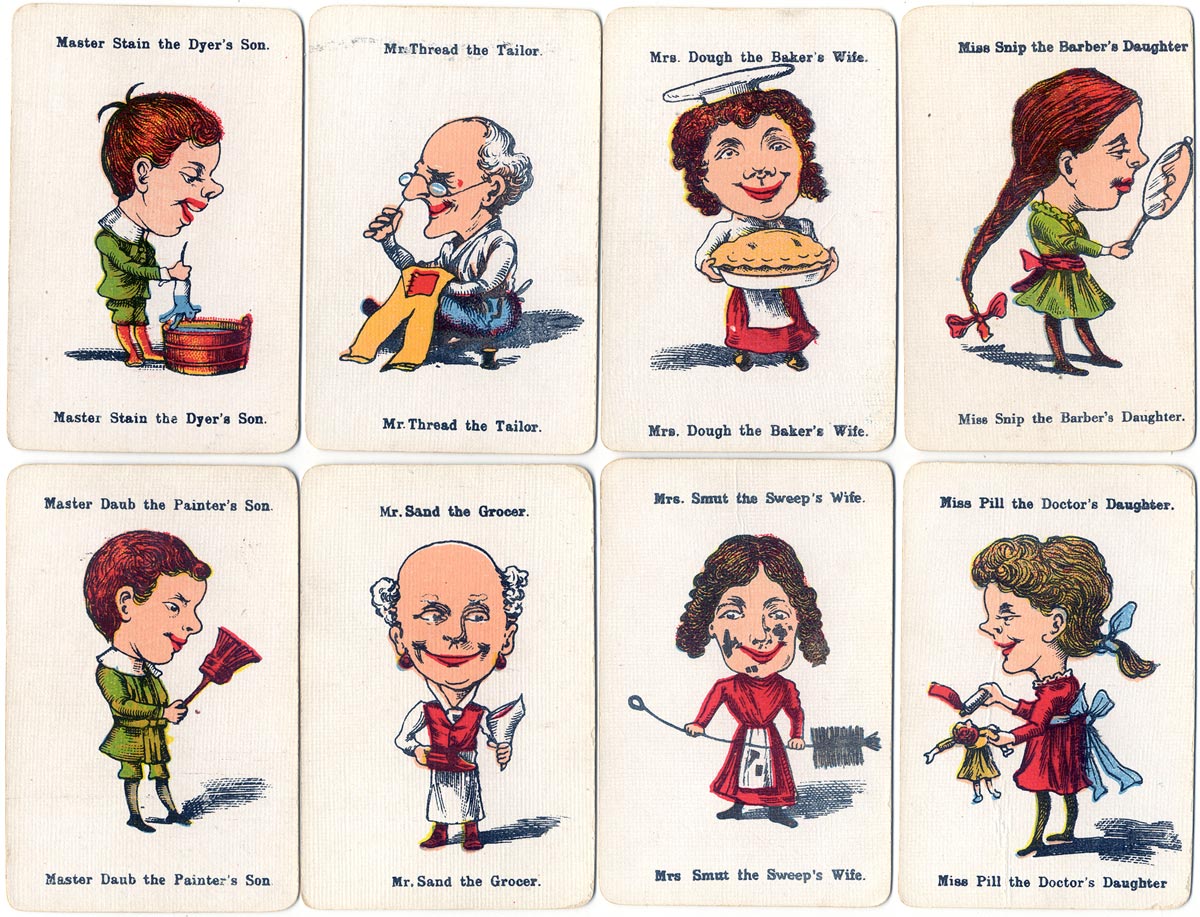 Teddy Bear Happy Families

Happy Families is one of the most popular card games ever devised, and it comes in many different guises. In all cases they offer the same benefits for early learners for developing matching and pairing skills, communication and social etiquette. Other variations on the same theme include quartet games based around Animals, Flowers or Bird sets, and also the well-known 'Top Trumps' series of quartet games featuring cars, aeroplanes, ships and so on.
In the casino, blackjack is the most popular card game. When you would like to play the card game blackjack you can play it for free or for real money. Be sure to check your local rules for gambling online.
Member since February 01, 1996
Founder and editor of the World of Playing Cards since 1996. He is a former committee member of the IPCS and was graphics editor of The Playing-Card journal for many years. He has lived at various times in Chile, England and Wales and is currently living in Extremadura, Spain. Simon's first limited edition pack of playing cards was a replica of a seventeenth century traditional English pack, which he produced from woodblocks and stencils.