The "Nine Lives Tarot", skillfully illustrated by Australian artist/designer Annette Abolins, represents the artist's creative and spiritual perspective on life. The illustrations are figurative, portraying experiences in life as a visual story. Whilst admittedly a free interpretation of the Rider-Waite-Smith system, additional inspiration has been drawn from imagination, mythology and from people close to the artist, whilst finding a deeper symbolic meaning to the ups-and-downs, opportunities and mysteries encountered on the path.
The artwork began as ink drawings on paper, which were then digitised and coloured using illustration software, retaining the sense of freedom and expressiveness of the original drawings. The whole deck took more than 3 years to complete and was finally launched in November 2013.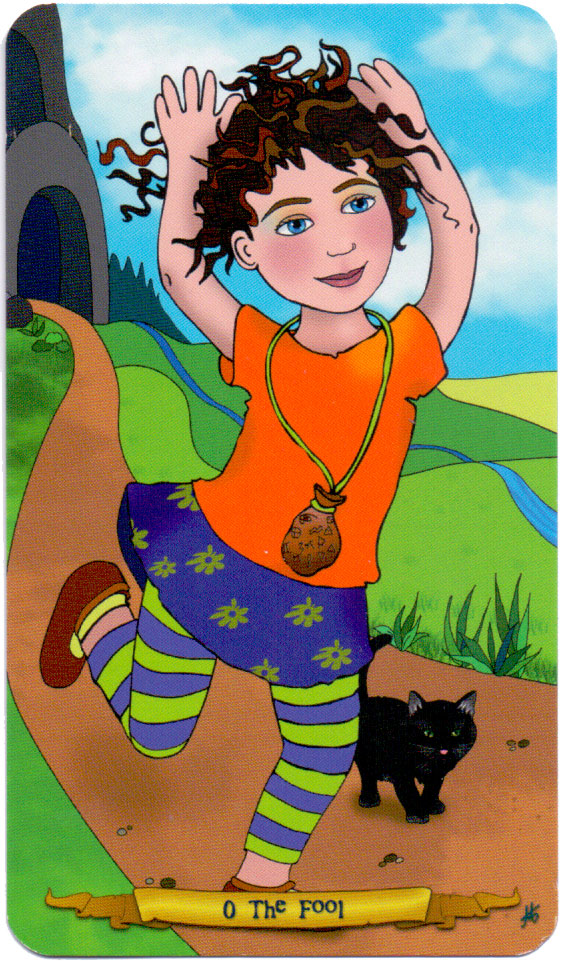 The Major Arcana
The four court cards in each of the suits of pentacles, rods, cups and swords represent personal influences in the realms of the home & hearth, spirit & creativity, the heart and the mind. Each suit is coded according to its association with star signs as well as the elements of earth, fire, water and air respectively. The colourful and life-affirming illustrations include visual connections between the cards to suggest different aspects and phases of Self.

The Kings, Queens and Knights from the Nine Lives tarot were subsequently redrawn and converted into a 52-card deck of illustrated playing cards, published in 2016. See here►
The minor arcana cards represent everyday situations, depicted in terms of prosperity, creativity, love and the mysteries of the mind. Thus, current influences from within the different suits provide clues to help better understand challenges, seize opportunities or confront life-changing events depicted in the archetypal, major arcana cards, thereby revealing the 'bigger' picture.
The title of "Nine Lives Tarot" was chosen because of the way the tarot depicts the cyclic movement through life. At no point does one card speak of finality and physical death; instead the cards work together to weave a picture with an open road to interpretation...
The Kings, Queens and Knights from the Nine Lives tarot were subsequently redrawn into a 52-card deck of playing cards, published in 2016. See here►