Published February 02, 2015
Updated March 11, 2022
Australia
Playing cards from Australia.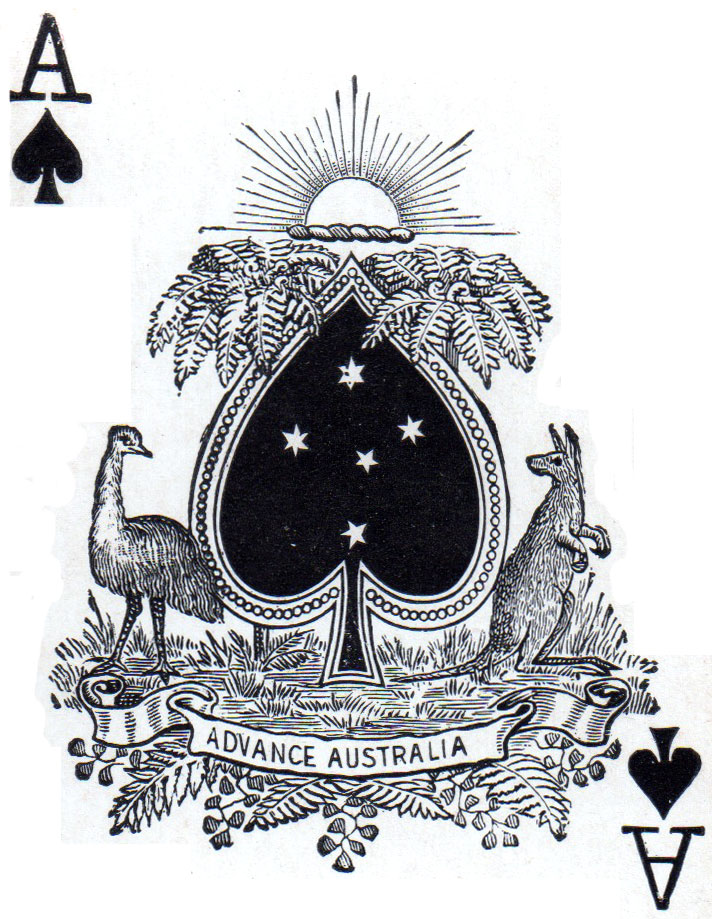 Playing cards from Australia
At first cards were exported to Australia from England and newspaper adverts for cards being imported exist from as early as 1803. Belgian manufacturers also exported cards to Australia during the 19th century and American cards influenced the local cardmakers. But there is not a long history of local manufacturing and there has probably never been a company in Australia whose sole business was making playing cards. The advent of television and more recently computers and the Internet have diminished the popularity of playing cards as a leisure pastime and as a manufacturing proposition. Most cards today arrive in ships from Shanghai.
The earliest known manufacturer was C. Troedel and Co. who were printing cards in the mid-1880s. Before the 1920s it seems that most Australian cards were made by small local enterprises producing small editions. It was not uncommon, especially in more remote parts of the country, for local newspapers to be involved in the production of playing cards because they had the resources. Usually these cards showed local scenes on the back or advertised local companies. In 1922 the Australasian Publication Company were given the sole rights for a three year period to sell Waddington's playing cards in Australia and New Zealand, and in 1930 Waddington's unsuccessfully tried to establish a manufacturing branch in Sydney. It is also recorded that there had been a dispute with Chas Goodall & Co regarding the use of the word 'linen' in connection with playing cards which was settled amicably. The brand name 'Silkette' was also used by Waddington in the 1920s & 30s.
The heyday of Australian playing card manufacture is roughly between 1930-1970, with several companies reaching their peaks during the 1940s and 50s. Alongside the more prestigious brands, most manufacturers also produced 'budget' decks in the 1930s to WWII era - possibly due to the early 1930s depression and then paper restrictions during/just after the war. Tax was levied on cards in Australia from 1932. From then onward all Australian manufacturers were required to have their code number printed on each pack, as well as 'Made In Australia'. read more→
Perhaps the most productive company was Paper Products Pty Ltd of Sydney which commenced in 1929. Brand names include Pompadour, Silkette, Silver Cat, Silver Belt, Golden Eagle, Top Hat, Two Hundred, Royal Charter, Queen's Slipper, Cambric, Chevalier and Canberra. However, by the late 1970s all the local manufacturing companies seem to have disappeared, or manufacturing was outsourced to Singapore or China.
Standard Playing Cards & Manufacturers
Towards the end of the 19th century playing cards were the most popular sedentary leisure pursuit in Australia after reading. There was no TV, radio or Scrabble. Large numbers of packs of standard playing cards were imported each year, chiefly from UK. Belgian manufacturers also exported their wares to Australia during the 19th century.
Standard playing cards made in Australia tend to have court cards based upon American designs, even using American registered brands such as 'Squeezers'. Very often the early packs and boxes are anonymous, hard to identify (maybe to avoid paying taxes), with the only clue being the courts and/or joker.
Member since February 01, 1996
View Articles
Curator and editor of the World of Playing Cards since 1996. He is a former committee member of the IPCS and was graphics editor of The Playing-Card journal for many years. He has lived at various times in Chile, England and Wales and is currently living in Extremadura, Spain. Simon's first limited edition pack of playing cards was a replica of a seventeenth century traditional English pack, which he produced from woodblocks and stencils.