Published February 15, 2015
•
Updated March 20, 2022
Pelaco
'Pelaco' playing cards with Aboriginal characters by Sands & McDougall, Australia, c.1930.
'Pelaco' Playing Cards
Pelaco playing cards depict Aboriginal characters on the court cards, joker and back design, with the ace of spades also suggesting a face. The images are believed to have been inspired by Mulga Fred (c.1874-1948), an Aboriginal buckjumper and one of the greatest rodeo riders of his day. Around 1917 the clothing firm Pelaco Ltd company advertising depicted a bare-legged and bare-foot Aboriginal man. By the 1930s 'Pelaco Bill' sported a monocle and cigar, or stood resplendent in shirt, tie and trousers. Biography of Mulga Fred→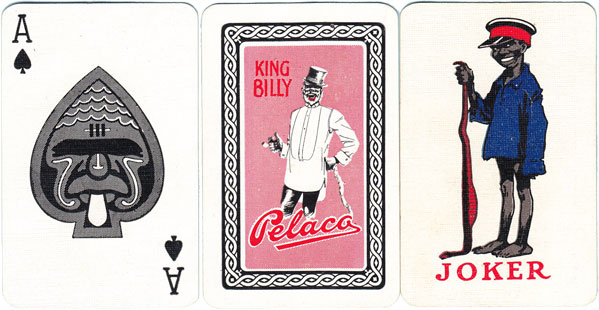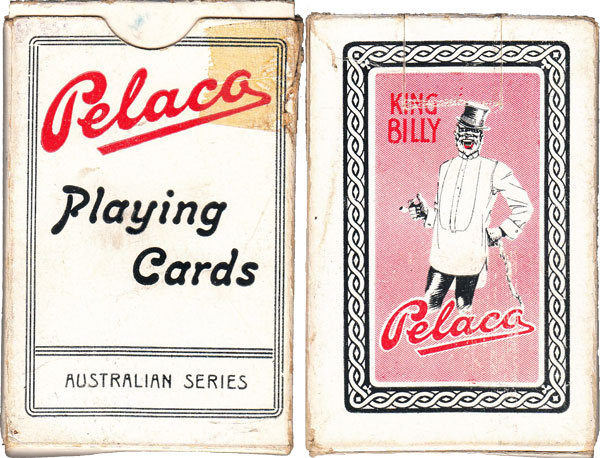 Mulga Fred was 5 ft 10 ins (178 cm) tall, full-bearded and softly spoken; in later life he walked with a limp, a legacy of rodeo work. His tombstone is engraved with a stockwhip and boomerang, symbols of the two cultures he mastered. A design application appears to have been lodged at the National Archives dated July 1933. The names on the four Kings are unclear, but may be Billy Kinnear, Frederick Charles Petty and Percy Joseph Brown of Prahran Vic whose names appear on the application.
Member since March 02, 2019
I collected playing cards since I was in primary school.