Carta Mundi - dating early packs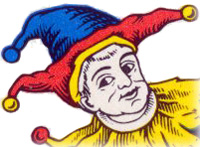 Carta Mundi was founded in Turnhout on 27 June 1970 by pooling the production and sales facilities of the three surviving companies: Fabrique Brepols, Van Genechten and Léonard Biermans. It printed its first playing cards on August 2nd 1971. Thus early Carta Mundi packs have features inherited from each of the earlier companies, such as the Mesmaekers Joker and court cards, indices, etc. Early examples of the standard English pattern Queen of Hearts use a colour scheme of red, black, blue, yellow and green. In many cases the green is replaced by the blue used elsewhere in the cards and at the same time the index font becomes bolder and the suit indicator becomes less curvaceous. The main picture, however, remains constant.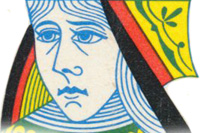 Carta Mundi have such consistent print runs that no variations can be detected. However, the following observations may help to assign approximate dates to some earlier decks.



In around 1977 the the index font becomes bolder and the hearts & spades suit symbols become less curvaceous. Around this time packs were produced with three jokers, the third one showing a jester standing on top of the world, holding a king of hearts. Also, there appears to be a small change in some of the pip colours of the tiny cards falling from the joker's hand.


Large index cards are also found with two indices and flesh coloured faces (as distinct to the white of other designs), but otherwise using the same picture as the standard bridge-size cards. Carta Mundi produce their 'casino' style in two widths, bridge and poker.