Published March 20, 2014
Updated March 18, 2022
Daveluy
Daveluy produced card games between c.1840 and 1890. Many of his playing cards have historical connotations and show figures with a landscape background.
Daveluy, Bruges
Daveluy produced card games between c.1840 and 1890. His output differs from other Belgian manufacturers by its distinctive fantasy medieval style, lively chromolithography, traditional ideals of workmanship and de luxe finish. Unlike his contemporaries in Turnhout, Daveluy favoured graphic originality with a penchant for the "neo-medieval" and "neo-Renaissance" which was becoming fashionable at that time, evoking an old order of chivalry and adventure.

Many of Daveluy's playing cards have historical connotations with reference to the history of the Southern Netherlands, and show figures with a landscape background. Where the Turnhout manufacturers borrowed from French and Continental patterns and addressed the wider world, Daveluy addressed Belgium of the 1830s. However, many of his fantasy playing card designs influenced the output of other manufacturers who imitated his style.
---
Édouard Alexis Daveluy (1812-1894) founded his press in Bruges in 1835. Having been appointed Lithographer to the King, in 1847 he filed a patent for "a method of manufacturing playing cards in chromolithography". We might even go so far as to say that Daveluy challenged the concepts of 'progress' associated with industrialisation and pursued his own ideals.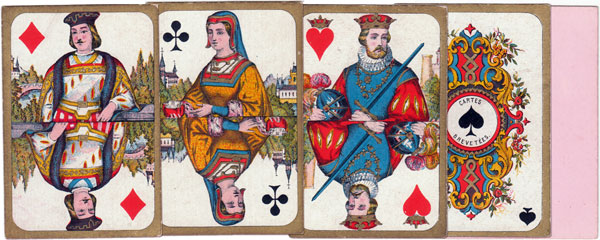 Daveluy exhibited in Paris at the Universal Exhibitions of 1855, 1867 & 1878. He also produced Lenormand & Tarot packs. Around 1880, Édouard Daveluy transferred the business to his eldest son Victor (1846-1886) who had made a name for himself as a photographer, but he died prematurely. In 1895 his widow assigned the business to the Geûens-Seaux partnership, although Brepols is believed to have taken some of Daveluy's plates or lithographic stones and Geûens brought two of the Brepols craftsmen to Bruges.

Member since February 01, 1996
View Articles
Curator and editor of the World of Playing Cards since 1996. He is a former committee member of the IPCS and was graphics editor of The Playing-Card journal for many years. He has lived at various times in Chile, England and Wales and is currently living in Extremadura, Spain. Simon's first limited edition pack of playing cards was a replica of a seventeenth century traditional English pack, which he produced from woodblocks and stencils.