Gipsy Fortune Telling Cards
The "Gipsy" fortune-telling cards with original artwork by Hylton Cock were published by Thomas de la Rue & Co Ltd in c.1910. The pack comes in a stiff slide-box embellished with gold on dark green, and contains thirty-three cards, thirty-two of which are illustrated in colour with designs of various meanings. The thirty-third card is left blank and represents the person whose fortune is being told.
The cards have no suit symbols or numbers, just a title. At least two different back designs are known. The same images were also published as "The Wizard Fortune Telling Cards" by Milton Bradley Co (Springfield, USA) in 1908 with plain cream backs.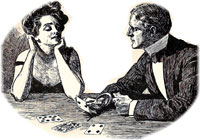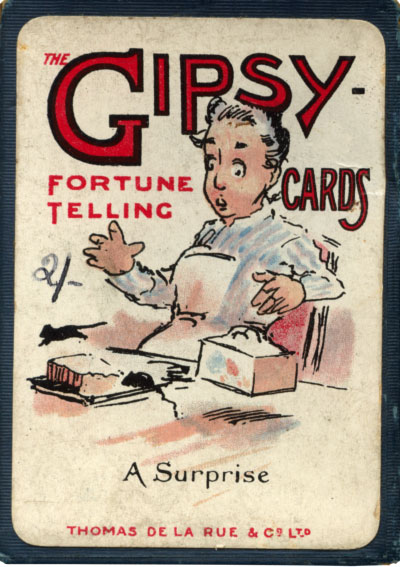 The Edwardian artwork, from just after the Victorian era, reflects the historical character and visual culture of the beginning of the 20th century when traditional values were still in place but modernity was about to emerge. The instructions included with the cards state that "it must be remembered that fortune tellers do not pretend that a pack of cards can of itself tell a person's fortune, the claim invariably being that the medium tells the fortune and uses the cards as his instruments."