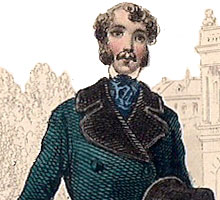 O. Gibert, Paris: French Costumes, c.1848
Elegant, romantic and sophisticated!
The French taste for elegant, well engraved costume playing cards started during the early 19th century. O. Gibert of Paris produced a series of such fashion packs, or packs depicting historical characters. This example is known as 'Cartes Parisiennes'. Being hand coloured, there was no consistency from deck to deck. Each version surpasses the last one in exquisiteness, delicacy and charm.
Designs by Jean-Marie Blanquière.