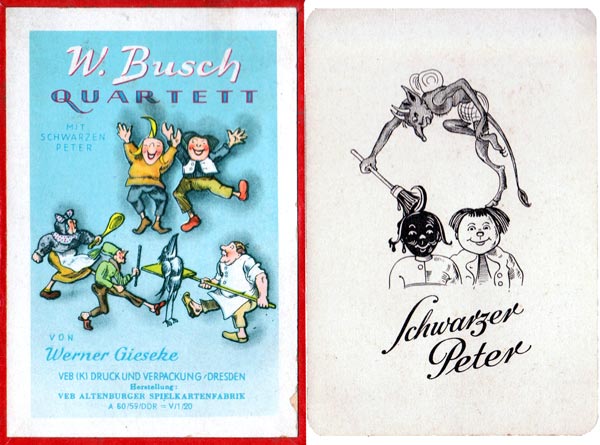 Schwarzer Peter Quartett
This "Schwarzer Peter Quartett" game was published by VEB Altenburger Spielkartenfabrik, designed by Werner Gieseke with cartoons by Wilhelm Busch, c.1960. Wilhelm Busch (1832-1908) was one of Germany's greatest humourous poets and a pioneer of the modern comic strip. The comic rhymes describe the antics and adventures of characters such as Max and Moritz who are seen in the first set stealing and roasting chickens. Further picture stories depict insubordinate behaviour, mockery of petty-bourgeoisie, children getting the better of adults and the antics of animals with human characteristics and impulses, often meeting with a grisly end. In all cases Busch's poetic verses and expressive cartoons guarantee their instant appeal.
The game can be played as a normal Quartet game ('Happy Families') or as 'Schwarzer Peter' ('Old Maid') by adding the extra card (shown left) to the pack.