Published April 05, 2014
Updated March 12, 2022
Graf Zeppelin
A card game commemorating the first round the world flight by the Graf Zeppelin, published by J.W. Spear & Söhne, Nuremberg, in 1930.
"Graf Zeppelin Round the World Flight" Quartet Game, 1930
article by Rex Pitts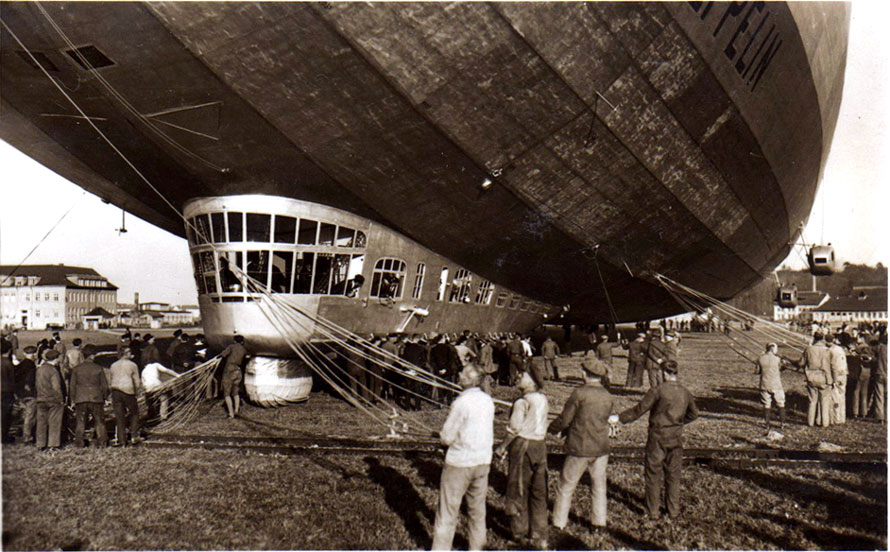 The first round the world flight was made by the Graf Zeppelin in 1929. The flight began at Lakehurst Naval Air Station in New Jersey in August. The airship carried correspondents from several countries and there was special souvenir mail which helped to pay for the cost of the trip. The first leg was across the Atlantic to Friedrichshafen to refuel for the next leg of nearly 7,300 miles over Russia and Siberia to Tokyo. Russia had asked that the Zeppelin fly over Moscow but the commander, Hugo Eckener, decided that the diversion from the northerly flight path would be too disruptive and refused. Five days were spent in Tokyo before the flight was resumed and the Pacific Ocean was crossed nonstop, a distance of almost 6,000 miles, and landed at Los Angeles. With nearly another 3,000 miles to go the airship crossed the USA back to Lakehurst again. The whole flight including the time spent at stops took 21 days 5 hours and the distance covered was 20,651 miles. The Zeppelin did visit Moscow in a special flight in 1930 to pick up and deliver special mail. It was greeted by a crowd of 100,000 people.
The card game commemorating these events was published by J.W. Spear & Söhne, Nuremberg, and edited by Max Geisenheyner in 1930.
---

Member since January 30, 2009
View Articles
Rex's main interest was in card games, because, he said, they were cheap and easy to get hold of in his early days of collecting. He is well known for his extensive knowledge of Pepys games and his book is on the bookshelves of many.
His other interest was non-standard playing cards. He also had collections of sheet music, music CDs, models of London buses, London Transport timetables and maps and other objects that intrigued him.
Rex had a chequered career at school. He was expelled twice, on one occasion for smoking! Despite this he trained as a radio engineer and worked for the BBC in the World Service.
Later he moved into sales and worked for a firm that made all kinds of packaging, a job he enjoyed until his retirement. He became an expert on boxes and would always investigate those that held his cards. He could always recognize a box made for Pepys, which were the same as those of Alf Cooke's Universal Playing Card Company, who printed the card games. This interest changed into an ability to make and mend boxes, which he did with great dexterity. He loved this kind of handicraft work.
His dexterity of hand and eye soon led to his making card games of his own design. He spent hours and hours carefully cutting them out and colouring them by hand.