Published July 03, 1996
•
Updated June 15, 2022
The Visconti-Sforza Tarot, c.1460
This pack of tarot cards appears to have have been made in the Bembo workshop in Cremona for Bianca Maria Visconti, c.1460.
The tarot deck - carte de trionfi - was invented in northern Italy in the first half of the fifteenth century. This luxury hand-painted example was probably made for the courtly milieu of Francesco Sforza who married the only child of Filippo Maria Visconti in 1441. It is an extended four-suit pack, including pages, knights, queens and kings, plus 22 trionfi, making a total of 78 cards. Many cards contain either heraldic motifs, aristocratic, militaristic attire or inscriptions such as "a bon droyt" or "amor myo". Currently this venerable set is divided between the Accademia Carrara in Bergamo (26 cards), the private Colleoni collection also in Bergamo (13 cards), and the Pierpont Morgan Library in New York (35 cards). Four cards have been lost. Where the pack was previously attributed to Antonio Cicognara new research has instead atttributed the deck to the workshop of Bonifacio Bembo (active c.1442-1477), which specialised in early-Renaissance paintings, murals, altarpieces and other decorated objects.

Some possible correspondences, even a close relationship, between early Italian and early German cards, can be noted. For example a similarity between the knave of coins in this deck with the unter (lower knave) of stags in the pack engraved by the Master of the Playing Cards which recurs in the woodcut Maihingen sheet►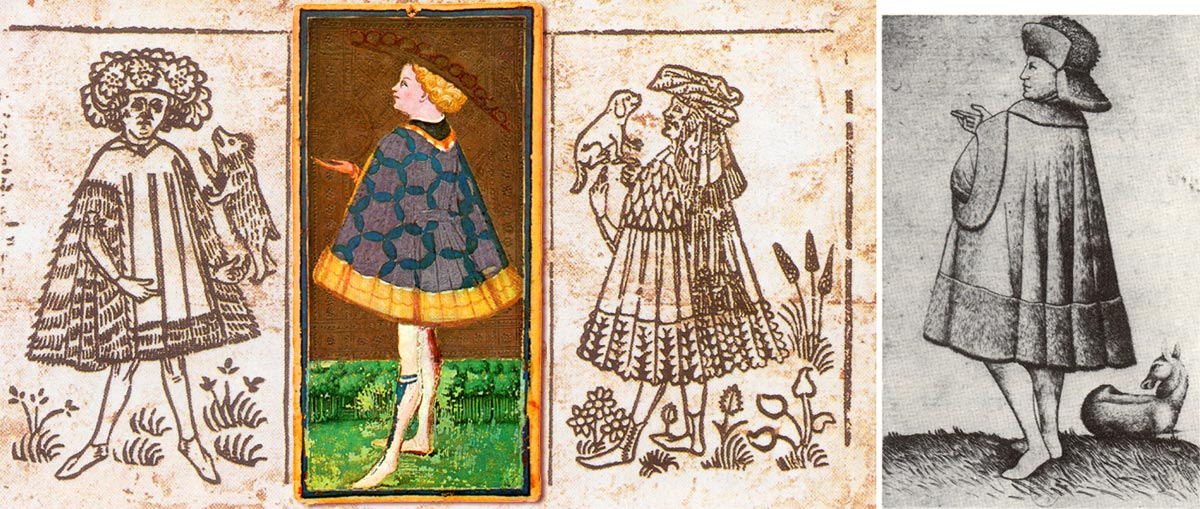 ---
The 22 'Trionfi' Cards
The 22 'trionfi' cards ('trumps' or 'arcana'), which are added to the regular pack to make up a complete tarot deck, served as trump cards which beat any normal cards in a trick. These 22 extra cards contain images which are both decorative and moralising and may have been intended raise the intellectual level of the game.
Were these 22 'trionfi' a complete set of existing pictorial images taken from somewhere else, or a newly created set for this particular game?
Games requiring special sets of picture cards are recorded in the inventory of the engraver Francesco Rosselli in 1523, named «giuocho del trionfo del petrarcha» [game of triumphs of Petrarch]; «giuco d'apostoli chol nostro singnore» [game of the apostles of our lord)]; «giuoco di sete virtù»; [game of the seven virtues] etc. Earlier, the so-called «Tarocchi di Mantegna» of c.1465 is a set of 50 allegorical engravings depicting a humanist world view.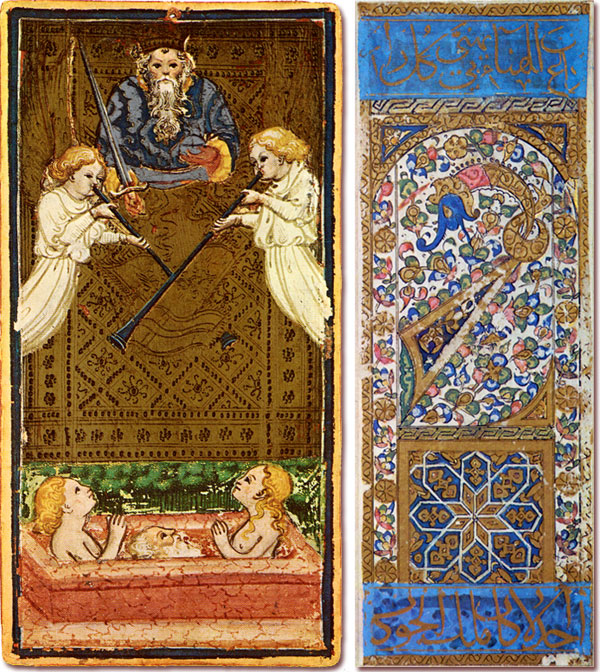 This also brings to mind the Islamic Mamluk cards which contain rhyming aphorisms on the court cards which are often very enchanting and uplifting: "As for the present that rejoices, thy heart will soon open up" - "I will, as pearls on a string, be lifted in the hands of kings" - "May God give thee prosperity; then thou will already have achieved thy aim" - "Rejoice for thy lasting happiness" - "I am as a flower, a string of pearls is my soil?" - "The alif rejoices and fulfils your wishes" - "Whosoever will call me to his happiness, he will only see joyful looks".
According to Michael Pearce (2015), the figure on Bembo's first trionfi card corresponds closely to the archetype of the late medieval natural magician – a scholar, writer and sage. See: project AWE►
---
Copies of the Visconti-Sforza deck
Michael Dummett (2007) has pointed out that the Visconti-Sforza deck was copied, in particular the six cards which he attributes to Benedetto Bembo, younger brother of Bonifacio, by other artists. The pin holes at the top of each card do suggest that they were given or lent as artist's models to other painters (this possibly explains how four cards are now missing). There are several incomplete sets extant which contain one or more cards copied from this deck, sometimes reversed, sometimes with the original orientation. But other cards do not correspond with these models and contain different imagery (see below comparison of Death card). So, the subjects of the cards had become established, but artistic arrangement or iconographic details were left to the painter or draftsman to vary.
Comparison of Death card
Although the subjects of the cards had become established, artistic arrangement or iconographic details were left to the painter or draftsman to vary, according to their influences and inspiration.
In the notes to The Waste Land, T. S. Eliot wrote: "I do not know the exact constitution of the tarot deck." There is nothing of the kind; there exist distinct forms of the tarot deck, each different in composition.
Member since February 01, 1996
View Articles
Curator and editor of the World of Playing Cards since 1996. He is a former committee member of the IPCS and was graphics editor of The Playing-Card journal for many years. He has lived at various times in Chile, England and Wales and is currently living in Extremadura, Spain. Simon's first limited edition pack of playing cards was a replica of a seventeenth century traditional English pack, which he produced from woodblocks and stencils.