Published September 23, 2012
Updated April 21, 2022
David James Binns
Hand-made "Tudor Playing Cards" by David James Binns, age 12.
David James Binns ~ "Tudor Playing Cards"
Hand-made "Tudor Playing Cards" by David James Binns, age 12. David wrote: "I know the clubs aren't perfect, but I'm only twelve so I can't do them as good as real Tudor cards. I set out to make a Hewson/ Tudor replica deck after seeing Tudor artwork and Tudor playing cards. I decided to do it in the correct fashion so made pip templates out of parchment. I made the cards a size between bridge and poker size. As you can see the court cards are not a 100% Hewson design, they are merged with my own ideas as well, I gathered resources from WoPC.co.uk and a sheet of court cards from a museum. (I found the picture on a site about Tudor cards.) It is my first try and the pip stencils wore out at the end, but I am pleased about the outcome." We think they are excellent and successfully capture the look and feel of real Tudor playing cards.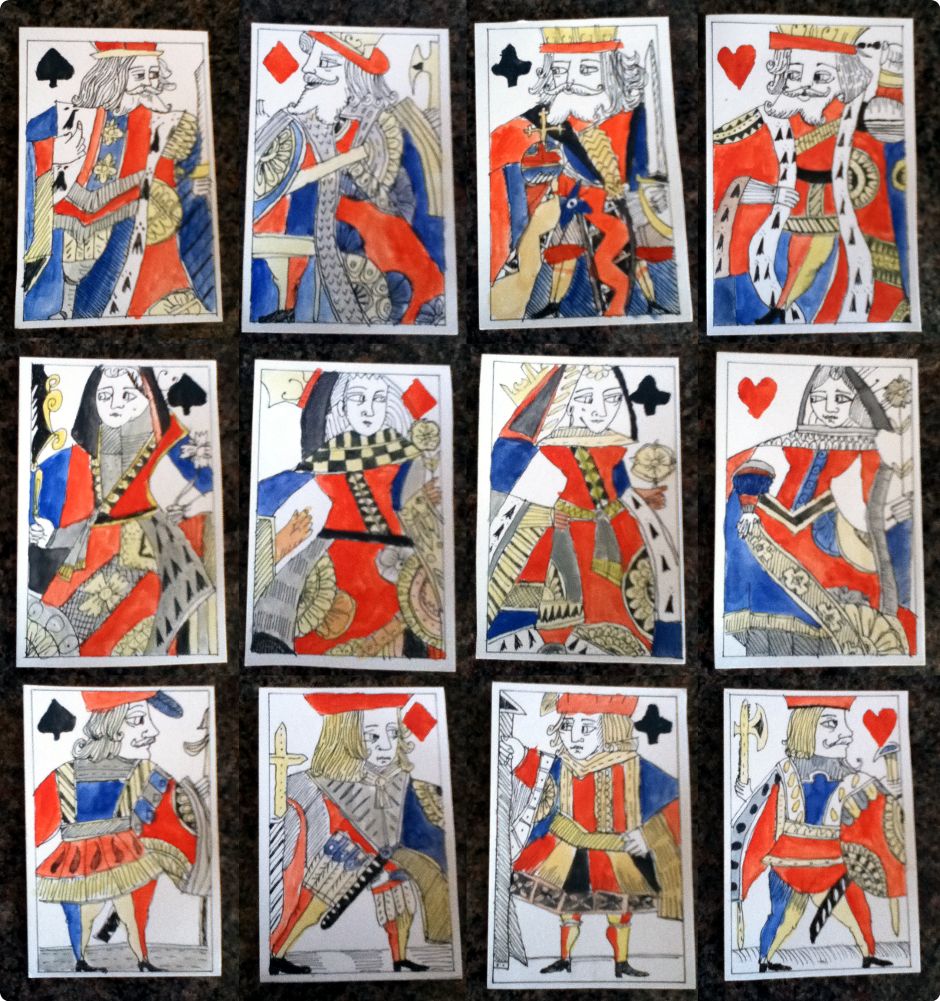 Version 2 ~ "Hewson Facsimile Playing Cards"
"I sought to make a more historically accurate pack of Hewson facsimile cards that would be more similar to existing replicas available today. I used laminated paper for the stencils, to recreate the "heavily oiled card" used in the 1600s. The card stock was made from white paper pasted on brown thicker paper, records state this is how cards were made in the past. I then pressed them together between wooden boards by hand. I traced the court designs directly from a print of an original Hewson sheet, to give them the most practical historical accuracy. For the paints I used watercolours to recreate the "water based paints", I spent a while mixing the colours to get the closest colour to the real 17th century paints. I used stencils for the pip cards and hand painted the courts."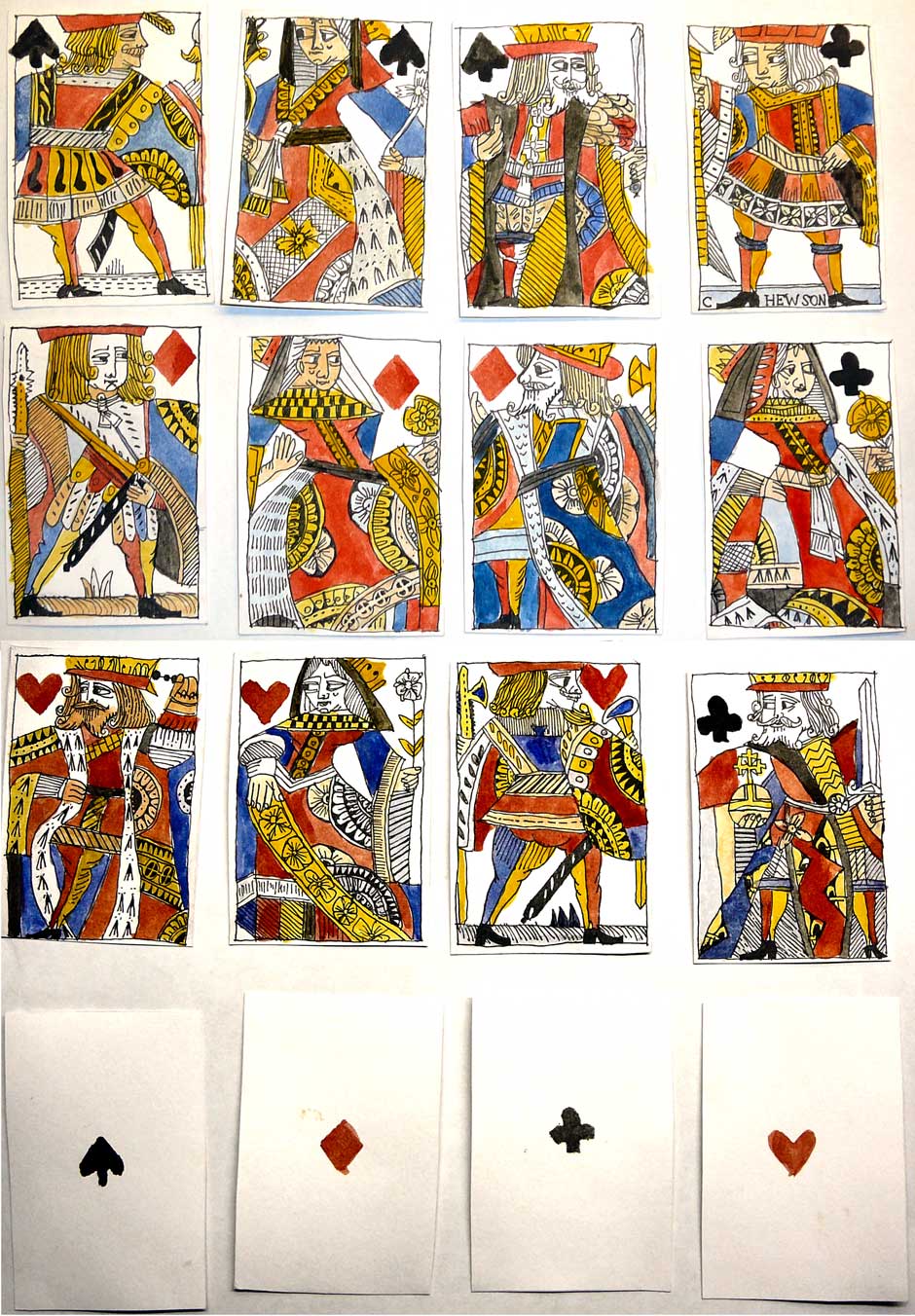 Version 3 ~ "Hewson Facsimile Playing Cards"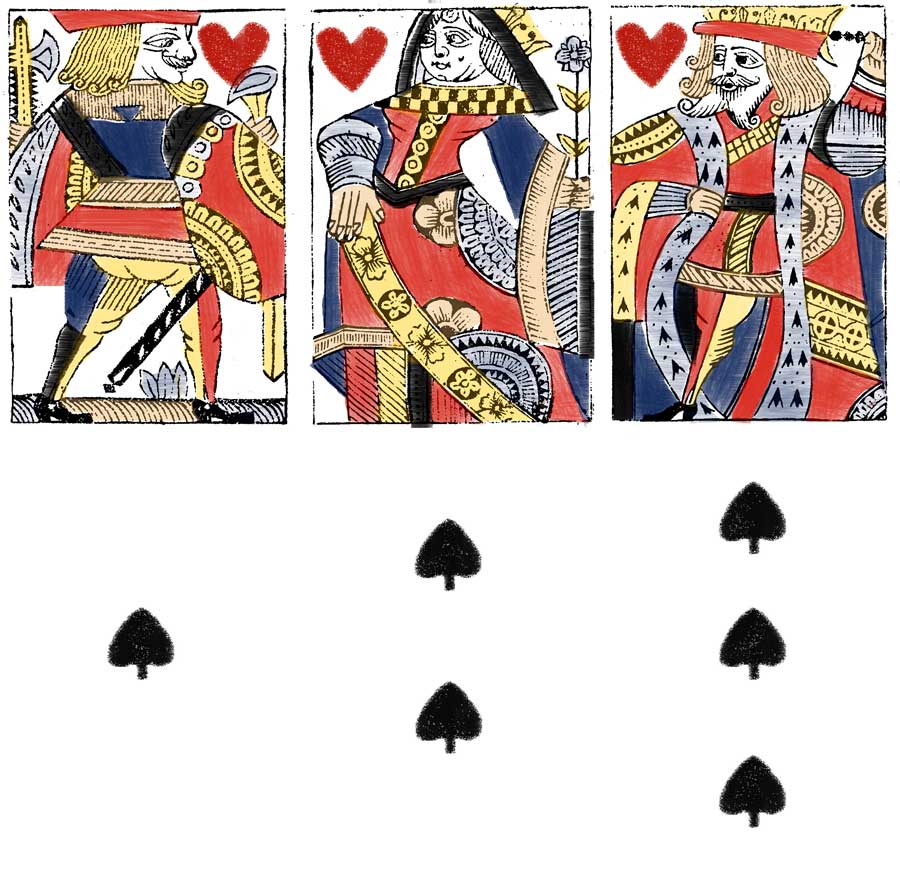 Member since February 01, 1996
View Articles
Curator and editor of the World of Playing Cards since 1996. He is a former committee member of the IPCS and was graphics editor of The Playing-Card journal for many years. He has lived at various times in Chile, England and Wales and is currently living in Extremadura, Spain. Simon's first limited edition pack of playing cards was a replica of a seventeenth century traditional English pack, which he produced from woodblocks and stencils.