Published July 03, 1996
•
Updated June 10, 2022
Cries of London
The cards were printed from copper plates, with the red suit symbols being applied later by stencil. The court cards contain interesting miniature versions of the standard full-length figures used on playing cards at the time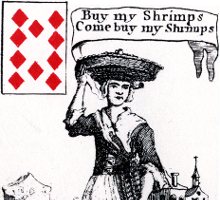 Cries of London Playing Cards, c.1754
John Kirk's Cries of London Playing Cards were first published in around 1754. Criers earned their living by walking the streets, selling their wares or providing services to the community, and drawing attention to their presence by bawling characteristic songs or playing on musical instruments. The practice was universal but has declined in recent times. The cards were printed from copper plates, with the red suit symbols being applied later by stencil. The court cards contain miniature versions of the full-length figures used on playing cards at the time.
Member since February 01, 1996
Founder and editor of the World of Playing Cards since 1996. He is a former committee member of the IPCS and was graphics editor of The Playing-Card journal for many years. He has lived at various times in Chile, England and Wales and is currently living in Extremadura, Spain. Simon's first limited edition pack of playing cards was a replica of a seventeenth century traditional English pack, which he produced from woodblocks and stencils.